Infinity roses are also known as Forever Roses, Eternal Roses, or Everlasting Roses. Our preserved flowers combine a mixture of science, sustainability, and long-term partnerships with Fairtrade farms. We have developed a product that we can proudly call an Infinity Rose. Below you'll find answers to the most frequently asked questions about our products and Infinity Roses.
What are Infinity Roses?
On the surface, Infinity roses are real fresh roses that have been preserved with our unique scientific method. Each rose is picked fresh from our Fairtrade farm in Ecuador and goes through a preserving process whereby the sap is replaced by a natural wax-based substance, which ensures that each rose maintains its original texture and appearance, making them always appear fresh and smell incredible.
We create roses that retain all of their wonderful qualities so that you can enjoy them for years, not days. They don't need to be watered and only need a bit of dusting to keep their beautiful colour.
How do Infinity Roses Work?
Our Infinity Rose boxes are real Fairtrade-farmed roses that undergo a preservation process. We swap their natural sap with a non-toxic wax-based solution, which allows them to retain their original characteristics.
Thanks to our scientific preservation method, our infinity rose boxes are guaranteed to maintain their wonderful smell and fresh look one year. However, if properly cared for, our roses can retain their features for up to three years.
Is there a difference between an Infinity Rose and an Eternal Rose?
In short, no. Both terms Infinity and Eternal refer to real, fresh roses that undergo a preservation process. These terms are often used interchangeably for branding purposes but all refer to the family of preserved roses or, more in general, preserved flowers.
Our Infinity Rose boxes, however, are different from the rest. These infinity rose boxes are responsibly sourced, cruelty-free products that support reforestation projects. In fact, Amaranté ensures farmers meet and exceed Fairtrade standards, while being fairly compensated for their work. We are also committed to neutralising the carbon footprint of each purchase by planting more flowers than we pick.
Are Forever Roses real flowers?
Yes, Forever Roses are real flowers - Absolutely. Our products are real Ecuadorian preserved roses that are produced using our scientific method. Unlike fresh-cut roses, however, Infinity Roses are able to display their beautiful qualities in their infinity rose boxes for years, not days.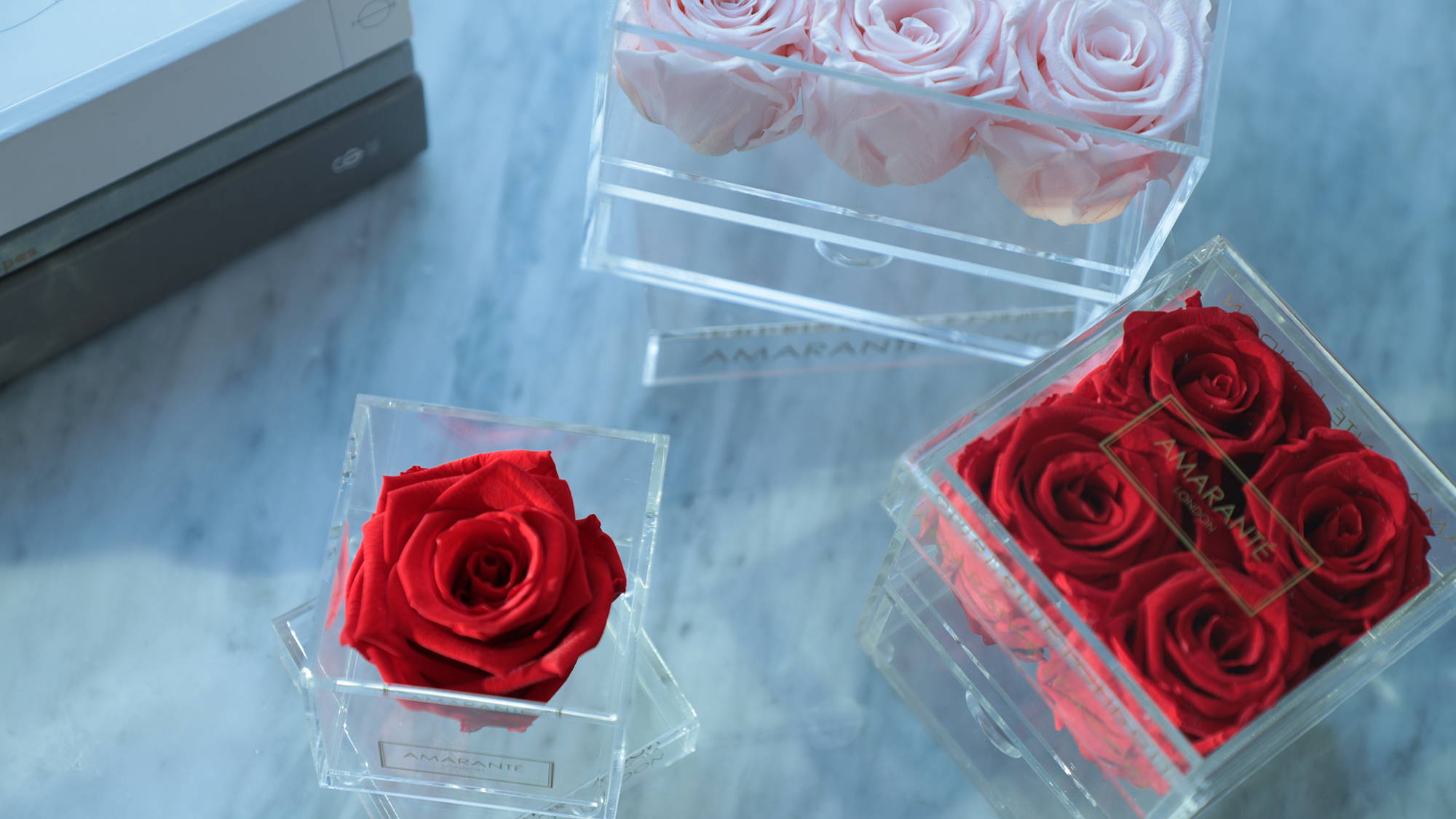 Are Forever Roses long-stem?
Our infinity rose boxes do not currently include long-stem roses. We encourage you to sign up to our newsletter to learn about new products as soon as they're launched!
Preserved flowers are expensive. Are Forever Roses Worth it?
Around Valentine's Day, a dozen arranged fresh roses could cost anywhere from £45, if bought from a corner flower shop, to £75 at a high-end florist. Although they make a beautiful gift, fresh-cut roses require maintenance and rarely survive for more than seven days.
A dozen preserved roses arranged in our medium round infinity rose boxes start at £99 and are guaranteed to maintain their beautiful features for at least a year with no effort required on your end.
But there's more to Amaranté's infinity rose boxes than their long-lasting sumptuous look. Our floral arrangements are Fairtrade certified and priced to ensure we can responsibly source our roses. We are committed to:
Compensating rose farmers fairly for their labour.
Leaving the smallest possible carbon footprint. We source our roses directly from Ecuadorian farms, so that our flowers are not shipped to or from any wholesaler, and we strive to produce more O2 than CO2.
Offering our customers an alternative to carbon-intensive fresh cut roses. By purchasing preserved roses, you positively impact the world and the environment by reducing the carbon footprint of rose farming.
Working on a made-to-order basis. By holding zero stock, we produce zero waste.
Do you Retail Infinity Rose Boxes in the UK?
Amaranté does not currently have a retail presence in the United Kingdom, and all our products are made to order. You can purchase all our infinity rose boxes on our website and arrange shipment to an address of your choice. Ordering from another country? Worldwide shipping is available as well.
Can I order Forever Roses online?
Absolutely! Amaranté offers you a vast choice of luxurious preserved roses in different arrangements. You can visit our website to shop Infinity Roses in endless colour and box combinations and have them delivered to an address of your choice. We hold zero stock and handcraft each arrangement to order.
Do you ship Infinity Roses in a Hatbox?
Amaranté offers a variety of Infinity rose boxes, including:
Forever Rose hatbox classic compositions. Our hatboxes are round and square classic boxes and are available in a large, medium, small, and single-rose size. Each arrangement is available in various colour combinations.
Forever Roses in suede hatboxes. Our sophisticated round brushed suede boxes come in three sizes: extra-large, large, and medium. Fully customize your order by choosing your rose colour.
Infinity Rose boxes in acrylic Jewellery package. These versatile boxes are currently available in three sizes: medium, small, and single-rose, and in three colours: black, white, and clear.
Click here to see all our collections now!
Once you place your order, we will carefully arrange and package your preserved roses to ensure they arrive safely to your final destination.
What kind of gift boxes are Forever Roses typically packaged in?
Amaranté Forever Rose compositions are packaged in hatboxes, acrylic jewellery boxes, glass vases, and more. Amaranté prepares the most sumptuous preserved roses in various arrangements using classic hatboxes, suede hatboxes and elegant jewellery boxes.
The shape, colour, size, and material of each box can be customiSed to meet your taste and preference. Complete your order by selecting your favourite rose colour to create the perfect gift for yourself or your loved ones.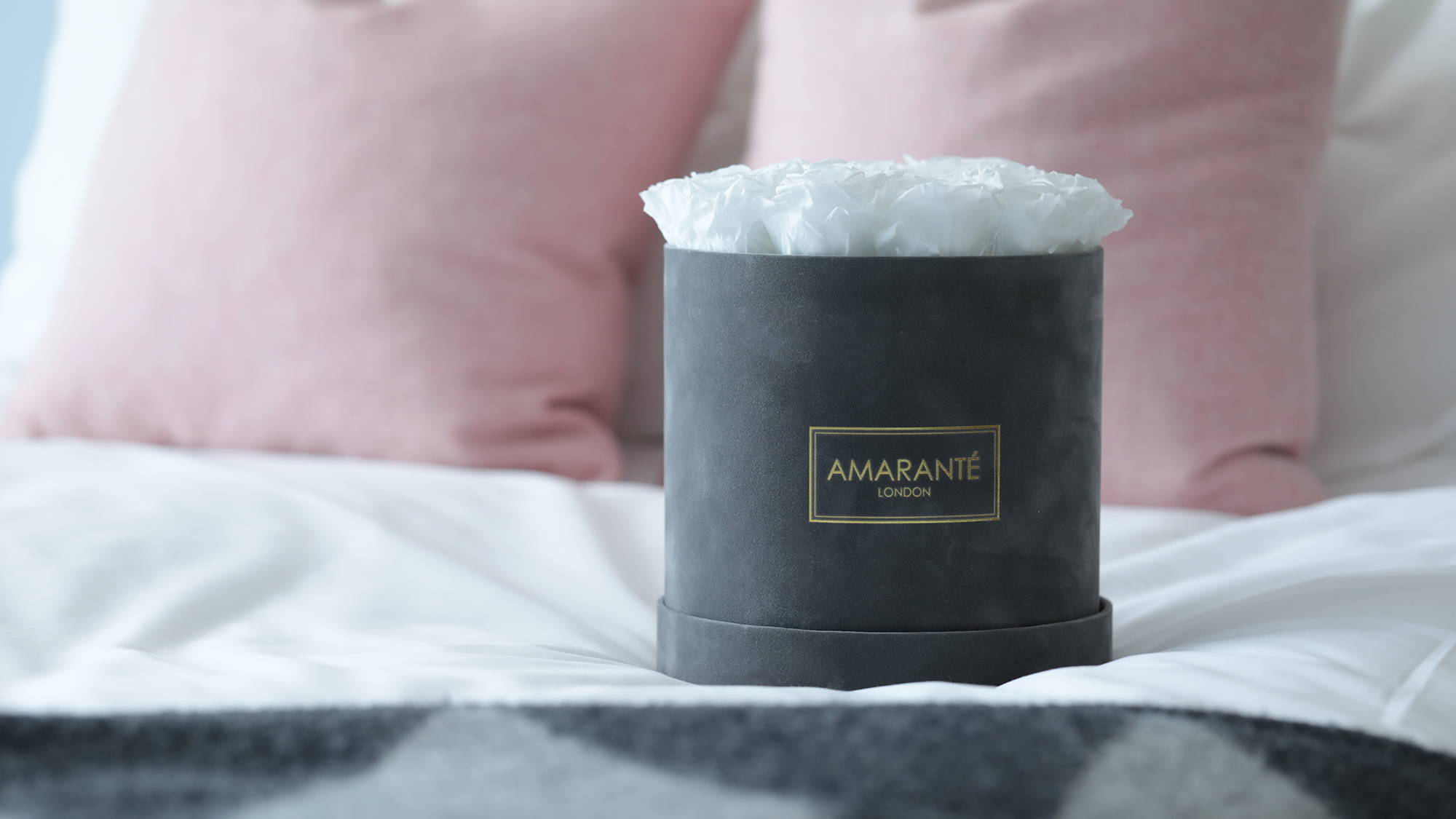 Do you offer Forever Roses in a hatbox?
Yes, we ship forever roses in a hatbox. The forever rose hatbox is our signature floral arrangement. We handmake all our hatboxes to provide you with the most luxurious experience. Our hatbox offering includes:
Round classic hatboxes;
Square classic hatboxes;
Round brushed suede hatboxes;
Square brushed suede hatboxes.
All our round infinity rose boxes are made of high-quality, durable cardboard or suede material. They perfectly complement Amaranté's Fairtrade Infinity Roses, and are available in boxes of multiple sizes and colours. Current sizes include:
Extra-large: 12"x12", 30-38 large roses;
Large: 9"x7", 18-22 large roses;
Medium: 7"x7", 12-14 roses;
Small: 4"x4", 4 large roses;
Single-rose: 4"x2", one 5-6 cm rose.
Can I purchase a Forever Rose jewellery box with roses?
Amaranté offers you a beautiful selection of acrylic jewellery boxes to accompany our luxurious Fairtrade Infinity Roses. These versatile boxes are perfect for displaying your preserved roses or for storing jewellery and accessories.
Infinity rose boxes are currently available in clear, black, and white and in different sizes:
Medium: 8"x8", 9 large roses;
Small: 8"x5", 4 large roses;
Single-rose: 8"x8", one extra-large rose;
Each of our acrylic jewellery boxes is presented with an elegant satin ribbon.
Can I purchase a single Forever Rose?
A single forever rose is an excellent home design accessory. A single forever rose is also perfect a gift to let your friends and family know that you are thinking of them.
You can purchase a single Fairtrade forever rose from Amaranté in different box combinations:
Single-rose classic round box: 4"x2", one 6 cm rose;
Single-rose acrylic boxes: 8 cm x 8 cm box with one 8 cm rose.
Do Eternal Roses have a particular meaning?
For many cultures and people throughout history, roses have often symbolised love, passion, and affection. Each colour, however, offers a specific meaning, and can be used to send a different message to anyone.
Our stunning compositions of infinity rose boxes are real preserved roses that last for 365 days. By purchasing one of our beautiful preserved flower arrangements, you can delight that special person for years, not days.
To us, however, Infinity Roses are more than just a thoughtful, luxurious gift. Preserved flowers symboliSe our commitment to respecting the environment and caring for rose farmers and their families' welfare.
By purchasing roses that last years, you contribute to reducing the carbon emissions caused by rose farming. Our products are also Fairtrade certified, and we compensate our farmers and workers fairly for their labour.
Do Eternal Roses require special care?
To craft out Infinity Roses, we preserve real, fresh roses with our scientific preservation method. Such a process ensures that our everlasting rose arrangements maintain their exquisite look for at least one year.
But with the proper maintenance, your Infinity Roses can last up to three years. Caring for preserved roses is simple:
Avoid direct exposure to light, especially sunlight.
Keep your preserved roses in a room temperature environment.
Occasionally brush them to remove dust that may accumulate over time using a soft brush.
Preserved roses should not be in contact with water, steam or any other substance.
Avoid frequently touching as the oils from hands can wear the preserved petals.
Avoid placing near strong air conditioning fans or strong air vents.
Keep your preserved roses in their box as they are secure and happy there.
Is there such a thing as a vase for infinity roses?
We currently arrange our Fairtrade roses inside beautifully handcrafted cardboard, brushed suede, and acrylic infinity rose boxes, designed to complement our everlasting flowers perfectly. To ensure that your preserved roses maintain original qualities, you mustn't remove them from their box.
At the same time, we continually work to design new high-end products to expand our offering. Sign up to our newsletter and be the first to know about new product launches!
How long do Eternal Roses really last?
We stand by the science behind our preservation process, and we guarantee that your preserved roses will maintain their beautiful features for at least one year.
Caring for your Infinity Roses requires minimal effort. At the same time, we suggest that you keep them at room temperature, avoid contact with sunlight and water, and do not remove them from their box. Occasionally, you can dust your roses to preserve their original look. If properly maintained, our flowers can last for up to three years.
Do Forever Roses need pruning?
Forever Roses require minimal maintenance and no pruning. Leave them inside their box, avoid contact with sunlight and water, and lightly dust if needed.
Can I place Forever Roses in a vase or a glass?
If you purchased infinity roses in a hatbox, the best way to ensure they remain fresh for many years to come is to leave them in their original box.
If you are looking for a crystal-clear packaging, you will love our acrylic infinity boxes. Our clear acrylic boxes are available in three sizes, and different rose colours. We also offer a rich selection of handcrafted classic and brushed suede hatboxes.
Do you offer same-day delivery for Infinity Roses?
We currently do not offer a same-day delivery option. As part of our commitment to reducing waste and carbon emissions, we hold zero stock. We proudly handcraft all flower arrangements to order, and each order takes from 1 to 2 business days to complete.
Please, ensure you consider this in addition to delivery time and plan for your purchase accordingly.
We offer our customers free express delivery for UK orders over £50. For all other UK orders, you can request next-day delivery for an additional £4.99. A specified-delivery option is also available for £4.99.
I'm seeking Forever Roses as a gift. What would you recommend?
Our customers love purchasing Forever Roses as gifts for their spouses, partners, a family member or a friend. All our infinity rose boxes are packaged in luxurious, handcrafted boxes and are perfect gifts for Valentine's Day, Mother's Day, birthdays, anniversaries and all special occasions.
If you want to ensure a specific date delivers your infinity rose boxes, you can select the specified date of delivery option in the cart page, when purchasing. We do not deliver on weekends or UK bank holidays, but we do offer a Saturday delivery option.
Please, consider that each arrangement is handmade and takes from 1 to 2 business days to create. For this reason, we suggest that you always plan your gift delivery.
Do you ship overseas?
We are proud to cater our preserved roses to customers all over the world. Amaranté offers both standard and tracked international delivery with Royal Mail, DPD, or DHL. Typical delivery times and prices vary based on the destination, although international orders typically reach destination within two to three weeks.
Below you will find answers to some common international delivery questions:
Do you ship Forever Roses from London to Qatar? Yes, we ship our Roses from London to Qatar. You can purchase our beautiful everlasting preserved flowers from Qatar. You will be able to choose between tracked or standard shipping.
How much does it cost to ship Forever Roses to Qatar? International delivery prices for shipping Forever Roses to Qatar are determined at checkout and vary based on the shipping option you select.
Is it possible to purchase Forever Roses from the UAE online? Do you ship Forever Roses to Dubai? You can shop our Infinity Roses online, and we will gladly ship them to any UAE destination of your choice.
What is a rainbow rose?
A multicoloured rose is a real artificially coloured and preserved rose whose petals resemble a beautiful rainbow. We offer rainbow roses with classic, bright colours and rainbow roses in delicate, pastel shades.
Do you offer rainbow Forever Roses?
Yes, our Forever Roses are also available in a bright rainbow and pastel rainbow shade.
What are Eternal Roses teddy bears?
Eternal Roses teddy bears are flower arrangements consisting of preserved roses applied over a foam teddy bear.
Foam is, however, often derived from polystyrene. This material is non-biodegradable and, if not disposed of correctly, it can release harmful chemicals into the environment. Moreover, polystyrene manufacturing is a carbon-heavy process that significantly contributes to global warming.
Can I purchase an Eternal Roses teddy bear from Amaranté?
Amaranté is committed to protecting our beautiful Earth by reducing waste and carbon emissions. For this reason, we do not offer them. These arrangements consist of preserved roses applied onto a teddy-shaped foam, a material derived with polystyrene. Polystyrene production is known to contribute to global warming. Foam is also non-biodegradable and can potentially leak polluting chemicals into the environment. As an eco-friendly alternative to foam teddy bears, we offer real teddies accompanied by our stunning preserved roses.