Shipping
Overseas Shipping and International Delivery
We are proud to cater our preserved roses to customers worldwide. Amaranté offers tracked international delivery with DHL. Typical delivery times and prices vary based on the destination, although international orders typically reach their destination within 3-5 working days. See our international delivery page for more information regarding the specific country you'd like to ship to.
Shipping Costs
The cost depends upon the destination country and how soon you would like it to be delivered. Please see our delivery page and international delivery page for more information.
Worldwide Shipping
Yes, we can ship our flowers worldwide, with the delivery of next-day to most. For more specific information about shipping to your country, please see our international delivery page.
Flower Packaging and Wrapping
Our flowers are carefully packaged in our Amaranté designed boxes, created to keep flowers safe during delivery. The specific type of delivery box will vary depending on whether you have ordered a rose box or a dried flower bouquet. Both boxes protect your flowers which will be carefully placed and secured down into the box to prevent them from moving around during the delivery process.
My Order
How to Contact Amaranté
To get in contact with us use this contact form. You can call 0204 525 6518, WhatsApp 07566 744737, email us at support@amarantelondon.com or use the live chat button. Our team are always on hand to help with any questions or enquiries. When talking to us about an order, we recommend having your order number ready when getting in touch.
What happens in the unlikely event you should receive the wrong product
In the unlikely event of this occurring, please get in touch with our customer service team within 24 hours of receiving the item. We will require you to send us a picture of the product you have received, and our customer service team will then advise you on the next steps.
About Exchanges on Faulty Products
You will need to provide photographable proof of a fault within 24 hours of receiving the flowers. In this instance, our team will work with you to find the best solution to the problem.
Including a Personal Message with your flowers
You can add your personalised message with any flowers you purchase by using the gift message field when placing your order. Your message will be printed on our gift cards and included alongside your flowers.
Receipts are not included in the Box
We do not include receipts or proof of purchase with our flowers. In the package are your selected flowers and a gift card if you include one.
Methods of Payment Accepted by Amaranté
We are happy to accept any of the following methods of payment for purchases made online:
American Express
Apple Pay
Diners Club
Discover
Google Pay
Klarna
Maestro
Master Card
Shop Pay
Visa
Clearpay
PayPal
We will Confirm Your Order Has Been Placed Successfully
As soon as you successfully place your order, you will receive an email notification. This email will contain your order number and all your order details. If you have not received an email after 10 minutes of placing your order, please get in touch with our customer support team and they will be able to help.
You Can Place Your Order With Us Directly In Our Store
We look forward to greeting you at our Stratford store location in London and placing your order with a team member. Even though we do not have ready-made stock of flowers, as everything is made to order, someone in-store will be able to talk you through your options and help you choose your perfect flowers. You can also choose our Click & Collect option.
Planning a Delivery Date in the Future
You can choose a delivery date up to 6 months in advance using the calendar available on our website. When finalising your order, you should select 'Free Delivery' in the delivery section. If you have any difficulties or would like further information about this, please get in touch with our team.
Amaranté Wedding Flowers
Yes! We offer a range of ready to wear wedding flowers, perfect for every ceremony. Each collection features a bridal bouquet, bridesmaid bouquet, buttonhole flower, wedding centrepieces and a selection of dried flowers in jars.
Looking after your Forever Flowers
We recommend our Infinity Roses and Dried Flower Bouquets be kept out of any direct sunlight. They do not need watering and should be given a light dusting now and again. You can find more care tips on our product care page.
Our Flower Delivery Service
Typical Delivery Times
Please see our Delivery page for details on the different delivery times.
We Offer Same Day Delivery in London
We currently offer same day delivery to all London locations. We also offer a free click and collect option.
Our Cut Off Times for Same Day or Next Day Delivery
Our cut-off time during the week is 3 pm. Any order made after this time will be dispatched the following day. On weekends, please ensure to place your order by 12 pm for next-day delivery.
Tracking your Order
You will receive an email or text notification as soon as we dispatch your flowers. You can also track your flowers at every step of the delivery journey through this link. On the morning of your delivery, you will receive a one-hour time slot from the courier. If you are not in, you can let your driver know and ask them to either leave your parcel in a safe place with a neighbour or attempt delivery the following day. Please get in touch directly with the courier for more information.
Infinity Roses
Infinity Roses (also known as Forever Roses)
On the surface, Infinity Roses are real fresh roses that have been preserved with our unique preservation method. Each rose is picked fresh from our Fairtrade farm in Ecuador and goes through a preservation process. We replace the sap with a natural wax-based substance, which ensures that each rose maintains its original texture and appearance. Our flowers appear fresh and maintain an incredible fresh fragrance for as long as three years.
We create roses that retain all their wonderful qualities so that you can enjoy them for years, not days. Our roses must be kept from water and will only require occasional dusting to keep their beautiful colour.
The Way Infinity Roses Work
Our Infinity Roses are real Fairtrade farmed roses that undergo a natural preservation process. We swap their natural sap with a non-toxic wax-based solution, which allows them to retain their original characteristics.
Thanks to this natural preservation process, our Infinity Roses are guaranteed to maintain their wonderful smell and fresh look for at least one year. However, if properly cared for, our roses can retain their features for up to three years.
Infinity Roses Are Real Flowers
Yes, Infinity Roses are real flowers. Our roses are procured directly from our Ecuadorian farm and naturally preserved. Unlike fresh-cut roses, our Infinity Roses won't fade after just a few days. They will instead maintain their natural appearance for years, not days.
Where We Retail Our Infinity Roses in the UK
The Amaranté headquarters is currently located in Stratford, East London. All our rose boxes and bouquets are made to order. However, we welcome everyone to visit our showroom, where you will find a selection of our rose boxes on display. You can purchase all our forever roses on our website and arrangement shipment to an address of your choice. Worldwide shipping is also available .
Our Infinity Roses are Not Long Stem (Not Yet)
Our floral arrangements do not currently include long-stem roses. We encourage you to sign up for our newsletter to learn about new products as soon as they're launched!
There Are No Differences Between an Infinity Rose and an Eternal Rose
Both terms "Infinity" and "Eternal" refer to real, fresh roses that undergo a unique preservation process. These terms are often used interchangeably for branding purposes. Still, all refer to the family of preserved roses or, more generally, preserved or forever flowers.
Our Infinity Roses however are different from the rest. They are responsibly sourced cruelty-free products that support reforestation projects. We ensure that our farms meet and exceed Fairtrade standards while fairly compensating for their work. We are also committed to neutralising the carbon footprint of each purchase by planting more flowers than we pick.
Forever Flowers are Expensive, But They Are Worth it
Around Valentine's Day alone, a dozen arranged fresh roses could cost anywhere from £45 bought from a corner shop to £75 at a high-end florist. Although fresh flowers make a beautiful gift, they require maintenance and rarely survive for more than seven days. Whereas preserved flowers may cost more but can be enjoyed and adored for far longer.
A dozen preserved roses arranged in our medium round Infinity Rose boxes start at £99 and are guaranteed to maintain their beautiful features from at least a year with no maintenance required.
But there's more to our Infinity Rose Boxes than just their long-lasting look. All our floral arrangements are Fairtrade certified, and prices are to ensure we can responsibly source our roses. We are committed to:
Compensating rose farmers fairly for their labour.
Leaving the smallest possible carbon footprint. We source our roses directly from Ecuadorian farms so that our flowers are not shipped to or from any wholesaler, and we strive to produce more O2 than CO2.
Offering our customers an alternative to carbon-intensive fresh-cut roses. By purchasing preserved roses, you positively impact the world and the environment by reducing the carbon footprint of rose farming.
Working on a made-to-order basis. By holding zero stock, we produce zero waste.
Forever Roses as a Gift
Our customers love purchasing Infinity Roses as gifts for their spouses, partners, a family member, or friend. All our luxurious handcrafted rose boxes are perfect gifts for all occasions, particularly Valentine's Day, Mother's Day, Birthday and Anniversaries just to name a few!
If you want to ensure your Infinity Roses are delivered on a specific date, please select that date on our calendar. Be advised that we do not deliver on UK bank holidays but offer a Sunday delivery option.
Please consider that each arrangement is handmade and takes 1 to 2 business days to create. For this reason, we suggest you always plan your gift delivery and allow enough time for it to be made and shipped.
You Can Order Forever Roses Online
Absolutely! Amaranté offers you a vast choice of luxurious preserved roses in different arrangements. You can visit our website to shop our Infinity Rose collection place your order, selecting the delivery address of your choice.
About Our Gift Boxes and Packaging
Amaranté Infinity Roses are packaged in rose boxes and acrylic jewellery boxes for a single infinity rose. We prepare gorgeous gift boxes in various finishes in both suede and matte, along with acrylic transparent jewellery boxes. We can customise each box's shape, colour, size, and material to meet your taste and preference. Complete your order by selecting your favourite rose colour to create the perfect gift for yourself and your loved ones.
We offer Infinity Roses in a hatbox
Yes, we ship Infinity Roses in a hatbox. The forever rose hatbox is our signature floral arrangement. We hand-make all our hatboxes to provide you with the most luxurious experience. We have designed our hatboxes to complement our everlasting flowers perfectly.
The different hatboxes we offer are:
Round classic hatbox
Square classic hatbox
Round brushed suede hatbox
Square brushed suede hatboxes
All our hatboxes for roses are made of high-quality, durable cardboard or suede material. They perfectly complement Amaranté's Fairtrade Infinity Roses and are available in boxes of multiple sizes and colours. Current sizes include:
Extra-large: 12"x12", containing 30-38 large roses;
Large: 9"x7", containing 18-22 large roses;
Medium: 7"x7", containing 12-14 roses;
Small: 4"x4", containing 4 large roses;
Single-rose: 4"x2", containing one 5-6 cm rose
To ensure that your preserved roses maintain their original qualities, you mustn't remove them from their box.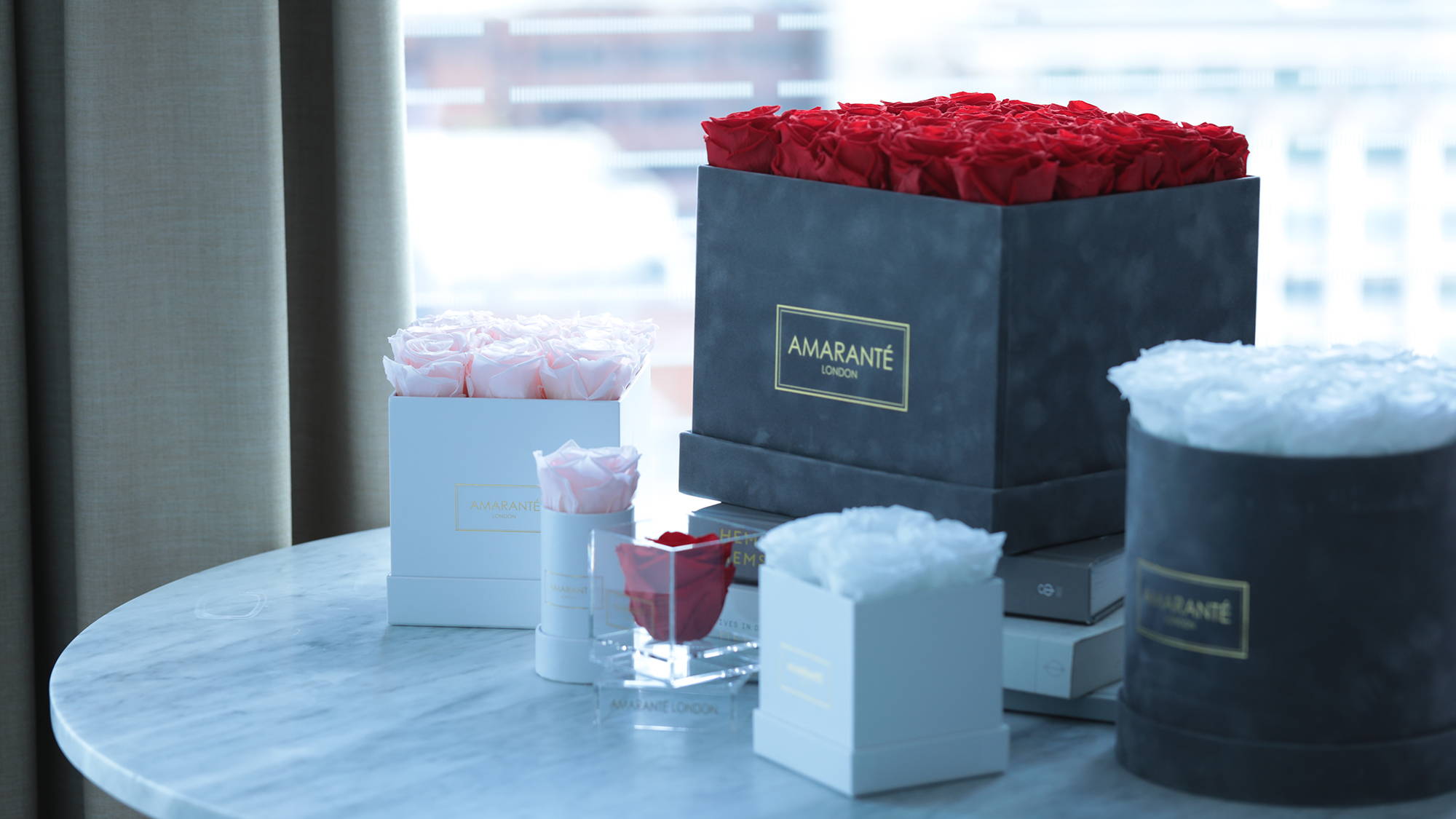 Dried Flowers
A Definition of Dried Flowers
Dried flowers, also known as forever flowers, are real. We process them using our natural preservation method, which perfectly preserves every stem for long-lasting life.
The Preservation Process
Typically, the procedure is to harvest the blooms and hang them upside down for approximately one week in a warm environment, so they hydrate naturally. In most cases, when flowers dry, they become a little brittle. However, they maintain their shape and colour. We then preserve them using our natural preservation method.
Dried flowers Real Flowers
All our dried flowers are 100% real flowers. Our flowers are dried and preserved using special methods that allow them to last years, not days.
We Do Not Use Fake Flowers
Never–fake flowers are usually made from plastic and are therefore not beneficial for the environment. We pride ourselves on using real flowers sourced from Fairtrade and B-Corp-certified sustainable flowers. For our event and wedding clients, we offer real silk flowers and our preserved range. Please consult our events page for more information about our flowers for events.
Forever Flowers Last A Very Long Time
If they are looked after correctly, our dried flowers will look beautiful and last for up to three years. You can find out more on how to look after your flowers on our product care page.
Dried Flowers Can Maintain their Scent
Some stems can retain their original scent. For example, Eucalyptus keeps its scent that we all know and love. We do not recommend spraying these flowers to add a scent, as this could damage them. You could add a small drop of essential oils into the arrangement. However, please be aware that this may shorten their lifespan.
Dried Flowers Are Sustainable
Dried flowers are a much more sustainable alternative to fresh flowers for the following reasons:
Unlike the fresh flower industry, dried flower stems are grown outside in fields and, therefore, are not intensely farmed in a greenhouse
Growing flowers naturally reduces the number of chemicals transmitted into the environment
A dried flower bouquet will last for as long as three years, producing little to no waste. On the other hand, fresh flowers are farmed and thrown away in days.
People Tend to Attribute a Special Meaning to Flowers...
Lots of people choose to buy dried flowers due to their low environmental impact. They are very on-trend because they are much more sustainable than their fresh alternative. They can be used to dress a wedding, or any other significant event and then be kept as a reminder of the day as a special keepsake. Flowers carry much sentimental value, and drying the stems out is the best way to keep them for a long time.
Forever Flowers Shouldn't Be Placed Outside
We do not recommend keeping your flowers outside. The moisture of humidity in the air may cause the stems to mould. During the warm months of the year, the direct sunlight will almost certainly cause the colours of the stems to fade.
Recommended dried flower arrangements as a gift
A dried flower arrangement is a beautiful gift for all occasions. We always recommend a gift that will go nicely with the interior space it will be put in. You could choose a coloured bouquet that will match perfectly, or you might consider a colour that will add contrast and be a colourful addition to the ambient. We also recommend you consider what type of arrangement the person you are gifting will like. Would they prefer a small, neutral arrangement or one that is big and bold? If you're unsure what gift is best, please don't hesitate to contact one of our personal shoppers, who is always on hand to help.
Dried Flowers Do Not Give Hay Fever
Luckily for any hay fever sufferers, all our dried flower arrangements do not contain pollen. All the live particles that cause hay fever will have dried out, so they are safe for everyone to have indoors.
Our Packaging for Dried Flowers
When purchasing our dried flower bouquets, our florists carefully hand pick the stems for your chosen bouquet and hand tie the arrangement. The bouquet is then covered in gift wrapping to protect your flowers. Your bouquet is then carefully placed into our Amaranté packaging box and tied down to avoid the flowers from moving about during delivery.
If you do not see your question listed above or wish to speak to a member of one of our customer service team, please do not hesitate to contact us.