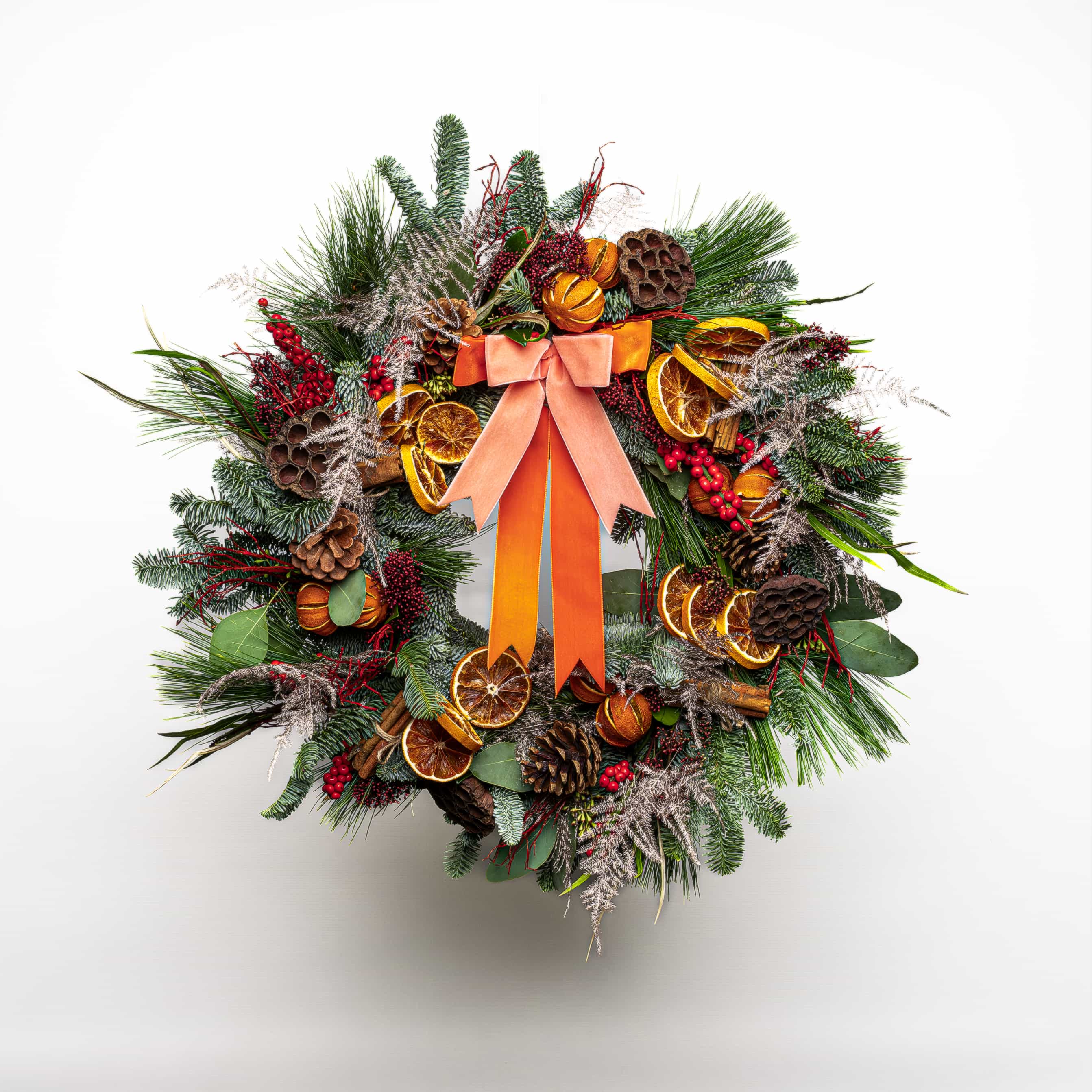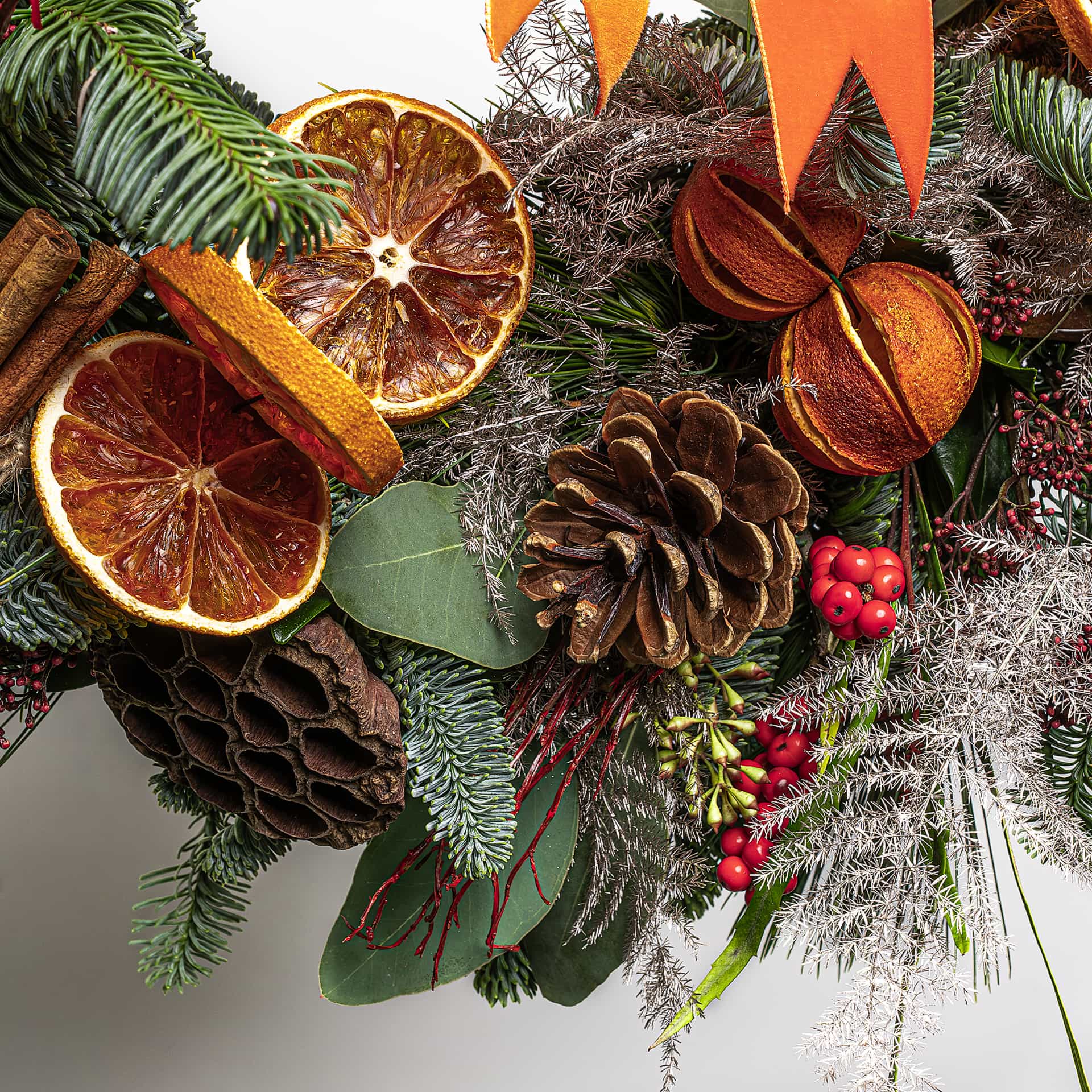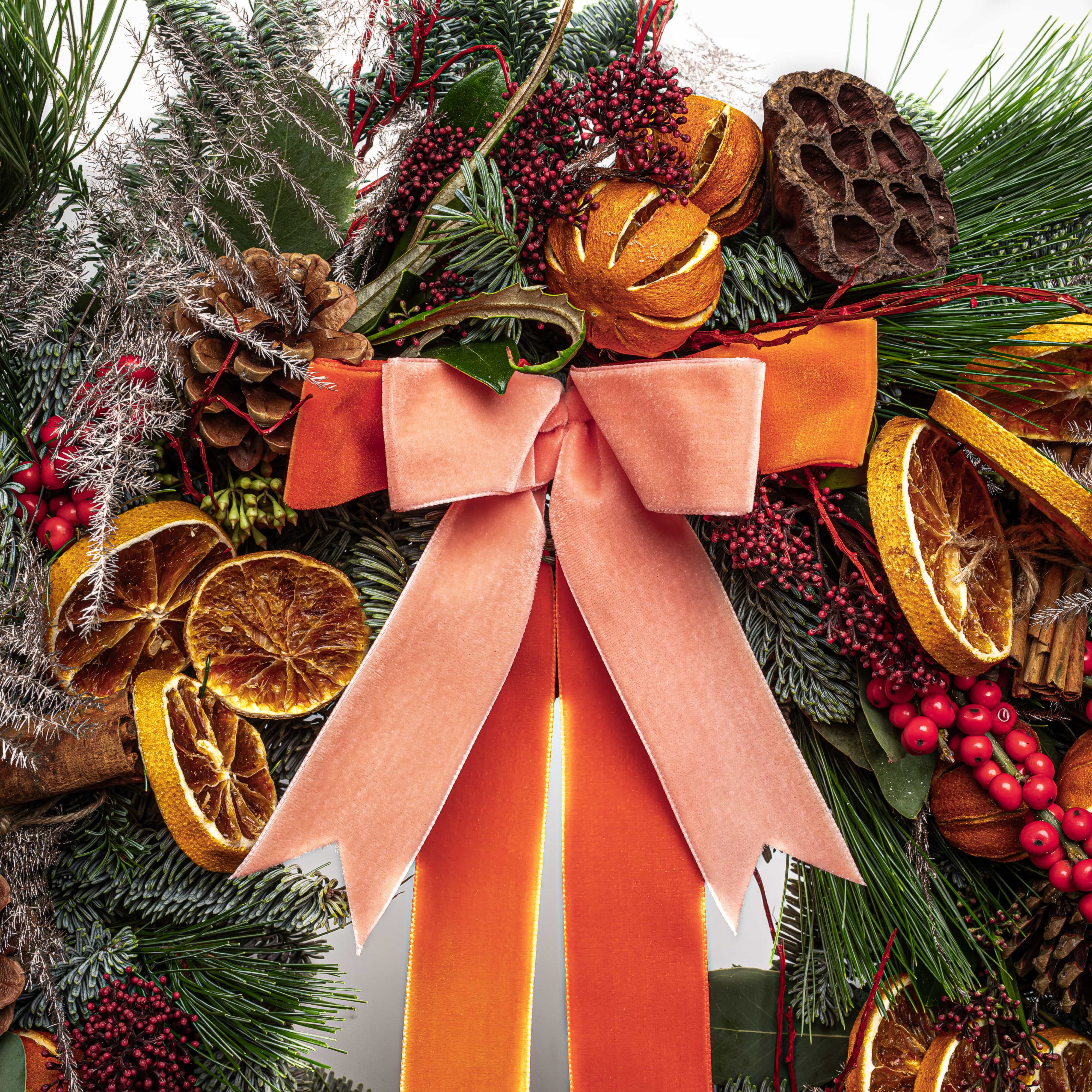 Same day delivery available, select this option at checkout for flowers delivered the same day
PRE-ORDER NOW TO RECEIVE YOUR CHRISTMAS FLOWERS ON THE FIRST WEEK OF DECEMBER
Step into the enchanting city of Seville with our Christmas Wreath, a vibrant gateway to the spirit of the holiday season. Inspired by the sun-soaked streets of this Spanish city, our Christmas wreath encapsulates the lively hues of the city, blending the lush greenery of Pine and Scotch Pine with the sophistication of Champagne Asparagus. Immerse yourself in the magic of Seville, where the city's radiant orange glow becomes the muse for a wreath that transcends tradition and transforms your space into a festive haven. Christmas wreaths are a wonderful festive tradition that charms the holiday season.
Nature's Palette Unveiled
Crafted with precision and passion, the Seville Christmas Wreath is a tapestry of nature's finest elements. The classic charm of Pine and Scotch Pine intertwines seamlessly with the delicate Champagne Asparagus, creating a wreath that exudes elegance. The bursts of red from Red Ilex and Red Skimmia add a festive touch, harmonizing with the natural greens to create a balanced and visually stunning composition. Whole Oranges and Grapefruit Slices add a citrusy zest, echoing the abundance of citrus groves characterising Seville. Adorned with Pine Cones, this Wreath is a celebration of Christmas flowers in a form that welcomes all who approach with its natural beauty.
Order Now for a Seville-Inspired Christmas Experience
Elevate your holiday decor with this Wreath, an embodiment of the spirited charm of Seville and the timeless allure of Christmas flowers. To ensure this radiant Wreath graces your door in time for the festivities, we recommend placing your order by 21st December.
Transform your home into a festive sanctuary with our Seville Christmas Wreath, where the colours of Seville and the magic of Christmas converge to transcend the tradition.
This wreath is 60cm.
Stems included within this bouquet:
Pine
Scotch pine
White ruscus
Grevillia
Gold asparagus
White helichrysum
Gold lotus seed
Sniowy pine cone
Gold peppercorn
Populus
CLICK AND COLLECT: 8:30am – 5:30pm (Stratford London) | FREE

WEEKDAY DELIVERY: Order by 4pm for orders delivered as soon as next day |FREE

SATURDAY DELIVERY: Order by 12pm for guaranteed Sunday delivery |FREE

SUNDAY DELIVERY: Order by 12pm for next working day delivery | FREE

SPECIFIED DATE DELIVERY: Guaranteed delivery on the day you choose | FREE

SAME DAY LONDON | Order by 1pm for same day delivery across London