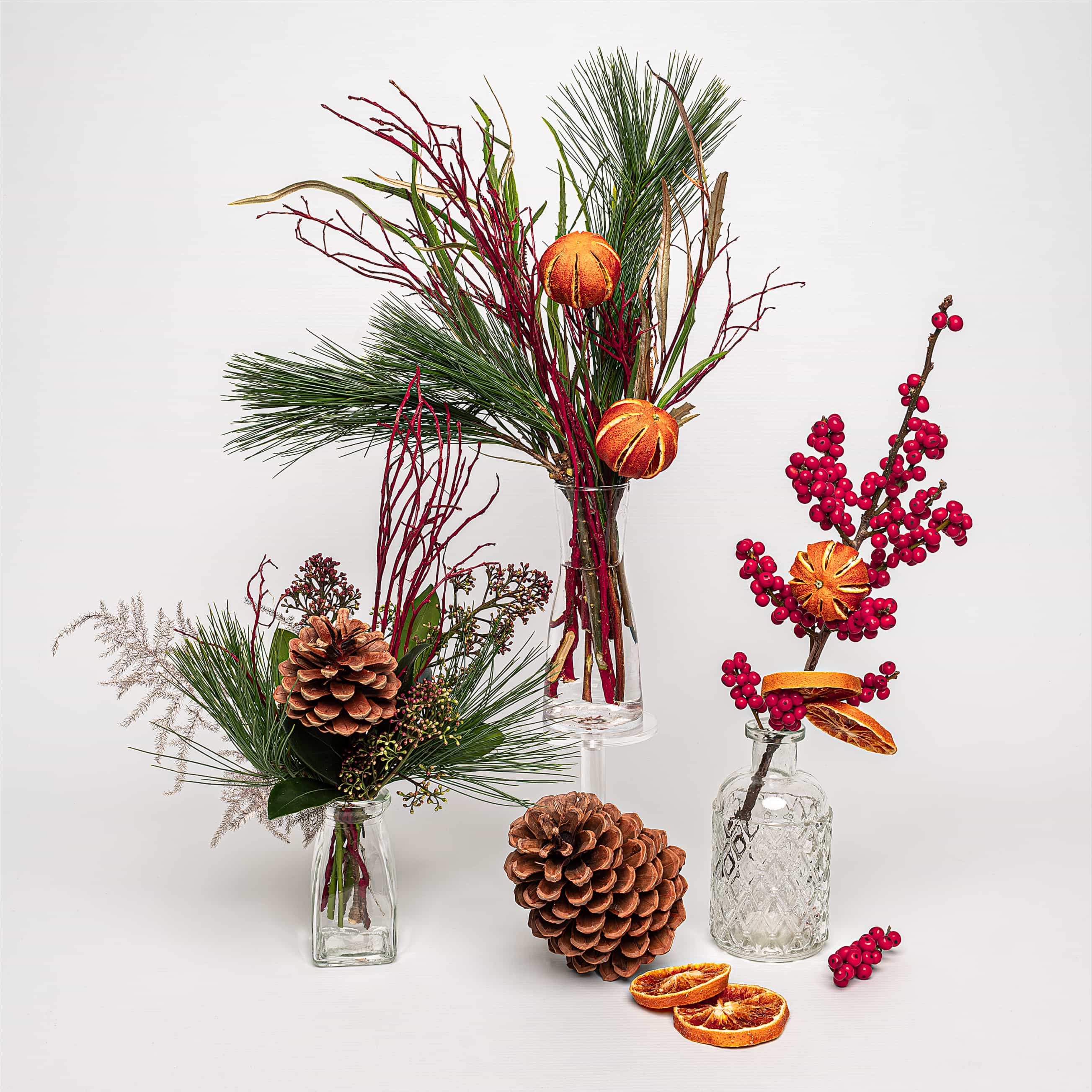 Seville Christmas Bud Vases
Same day delivery available, select this option at checkout for flowers delivered the same day
PRE-ORDER NOW TO RECEIVE YOUR CHRISTMAS FLOWERS ON THE FIRST WEEK OF DECEMBER
Indulge in the vibrant allure of the enchanting city of Seville with our Christmas Bud Vases, a trio of petite Christmas flower arrangements that capture the spirit of the Spanish sun-soaked city. Inspired by the warmth of Seville's orange groves, these flowers for Christmas boast a stunning array of Pine, Scotch Pine, Asparagus, Red Ilex, and Red Skimmia, forming a botanical composition that mirrors the city's festive energy. The infusion of Oranges and Grapefruits adds a burst of citrusy brilliance, evoking the fragrant aroma of Seville's bustling markets. Each arrangement, carefully nestled in its jar, brings a touch of elegance to your holiday decor, creating an intimate connection to the joyous traditions of Christmas.
Flowers for Christmas, Nature's Palette in Three Acts
This set of Christmas Vases tell a tale of nature's diversity. Each arrangement showcases a harmonious blend of green tones, enriched by the festive reds and oranges. Pine and Scotch Pine create a verdant backdrop. The Champagne Asparagus adds a delicate touch and elevates this floral arrangement to a new level of sophistication. Our experienced florists also included Populus and Gravellia stems to add texture and create a captivating display that pays homage to Seville's diverse landscapes. Red Ilex and Red Skimmia contribute vibrant hues, perfectly complementing the natural greens. As a finishing touch, Whole Oranges and Grapefruit Slices add a pop of citrusy vibrancy, encapsulating the essence of Seville in every bud vase.
Order Today for a Seville-Inspired Holiday
Infuse your space with the magic of Mediterranean warmth and the joy of Christmas flowers with our vibrant Seville Bud Vases. To ensure these petite floral arrangements grace your home in time for the festivities, we recommend placing your order by 21st December.
Transform your holiday decor into a celebration of Seville's radiant charm with this trio of Seville bud vases, each a testament to the rich and diverse colours of Christmas in the heart of Spain. Let these flowers for Christmas bring a touch of Spanish warmth to your festive celebrations.
Stems included within this bouquet:
Pine
Scotch pine
White ruscus
Grevillia
Gold asparagus
White helichrysum
Gold lotus seed
Sniowy pine cone
Gold peppercorn
Populus
CLICK AND COLLECT: 8:30am – 5:30pm (Stratford London) | FREE

WEEKDAY DELIVERY: Order by 4pm for orders delivered as soon as next day |FREE

SATURDAY DELIVERY: Order by 12pm for guaranteed Sunday delivery |FREE

SUNDAY DELIVERY: Order by 12pm for next working day delivery | FREE

SPECIFIED DATE DELIVERY: Guaranteed delivery on the day you choose | FREE

SAME DAY LONDON | Order by 1pm for same day delivery across London