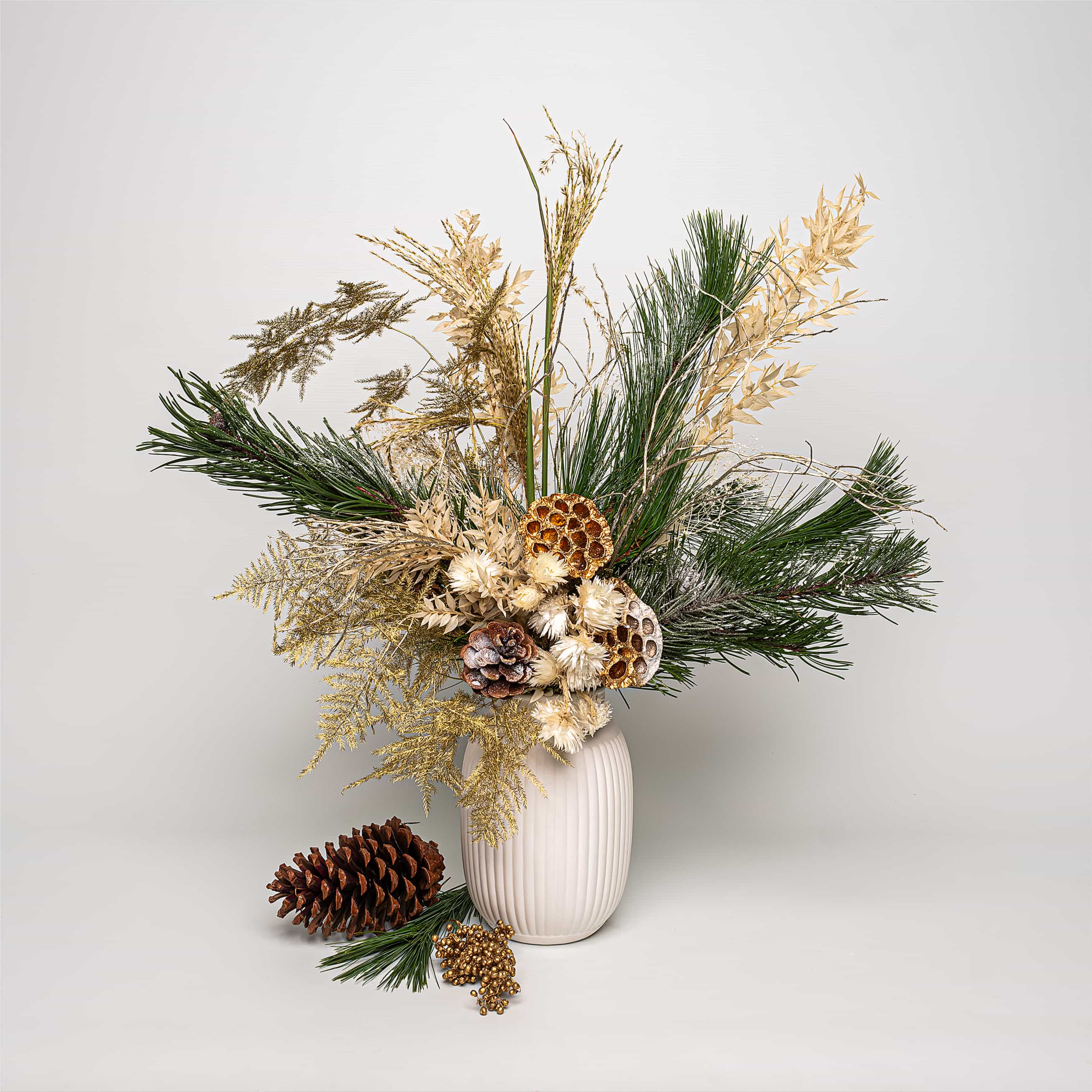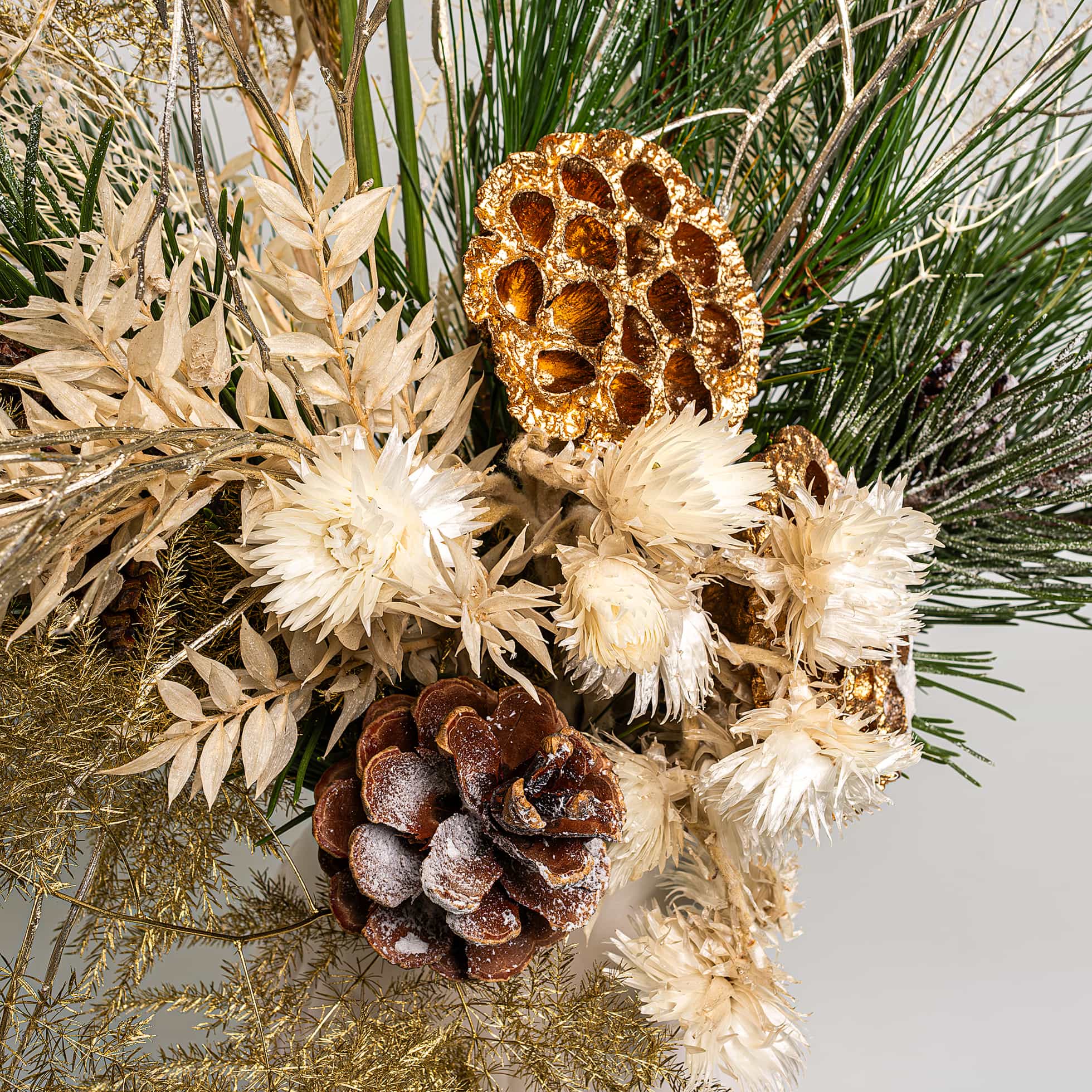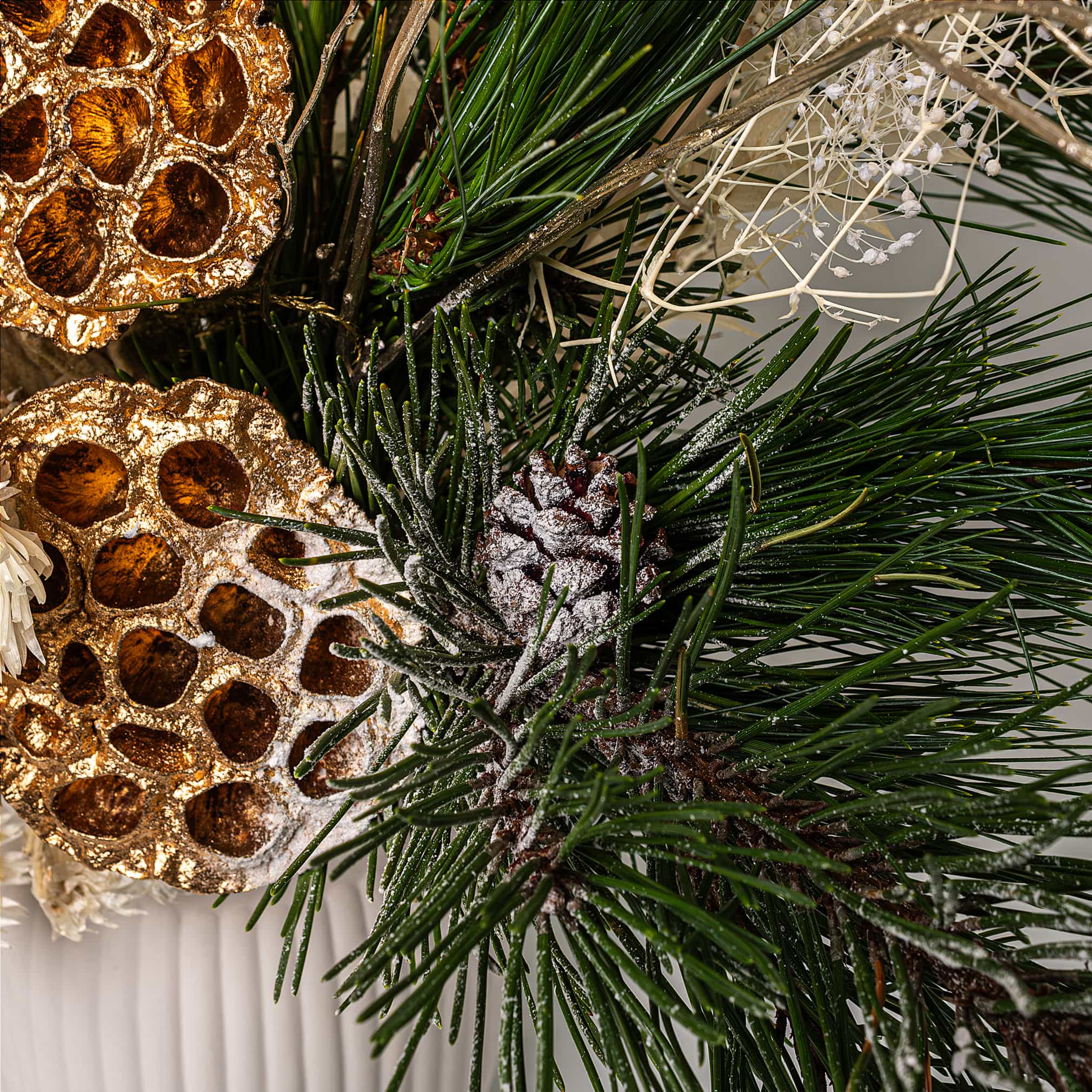 Medium Prague Christmas Bouquet
Same day delivery available, select this option at checkout for flowers delivered the same day
PRE-ORDER NOW TO RECEIVE YOUR CHRISTMAS FLOWERS ON THE FIRST WEEK OF DECEMBER
This Christmas bouquet is a masterpiece of floral artistry and a tribute to Prague, designed to evoke the enchanting spirit of the holiday season. The base of the arrangement is a lush bed of deep green pine boughs, exuding the crisp fragrance of a winter forest. Intertwined with the evergreen foliage are delicate sprigs of frosted eucalyptus, adding a touch of silver shimmer to the overall composition.
Eye-Catching Flowers for Christmas
With this floral arrangement you'll immerse yourself in the enchanting allure of Prague. Our expert florists designed a this medium sized luxury bouquet which is an embodiment of the city's regal charm and natural splendour. We crafted a meticulous selection of Pine, Scotch Pine, and White Ruscus for a bouquet that is a testament to the lush greenery that graces the city's landscape. Grevillia and Gold Asparagus add a touch of sophistication, while White Helichrysum introduces delicate texture. The golden hues of Gold Lotus Seed and Gold Peppercorn bring forth a regal aura, echoing the architectural brilliance of Prague's historic skyline.
A Christmas Bouquet with a Natural Harmony
This Prague Christmas Bouquet is a celebration of natural harmony and festive elegance, drawing inspiration from green and gold that define Prague's identity. Pine and Scotch Pine stand tall, reflecting the city's commitment to green living and sustainable beauty. White Ruscus and Grevillia add a layer of sophistication, creating a balanced palette of greens and gold. The golden tones of Asparagus, Lotus Seed, and Peppercorn evoke the regal charm of Prague's historic architecture, bringing a touch of opulence to your holiday decor. Snowy Pine Cones and Populus complete the ensemble, paying homage to Prague's timeless allure and the joy of Christmas flowers.
Order Today for a Golden Christmas Celebration
Elevate your holiday festivities with this Christmas Bouquet, a tribute to the joyful golden charm of this city. To ensure this elegant masterpiece graces your home in time for the festivities, we recommend placing your order by December 21st. Let the spirit of Prague infuse your holiday celebrations with the timeless beauty of this bouquet.
Stems included within this bouquet:
Pine
Scotch pine
White ruscus
Grevillia
Gold asparagus
White helichrysum
Gold lotus seed
Sniowy pine cone
Gold peppercorn
Populus
CLICK AND COLLECT: 8:30am – 5:30pm (Stratford London) | FREE

WEEKDAY DELIVERY: Order by 4pm for orders delivered as soon as next day |FREE

SATURDAY DELIVERY: Order by 12pm for guaranteed Sunday delivery |FREE

SUNDAY DELIVERY: Order by 12pm for next working day delivery | FREE

SPECIFIED DATE DELIVERY: Guaranteed delivery on the day you choose | FREE

SAME DAY LONDON | Order by 1pm for same day delivery across London