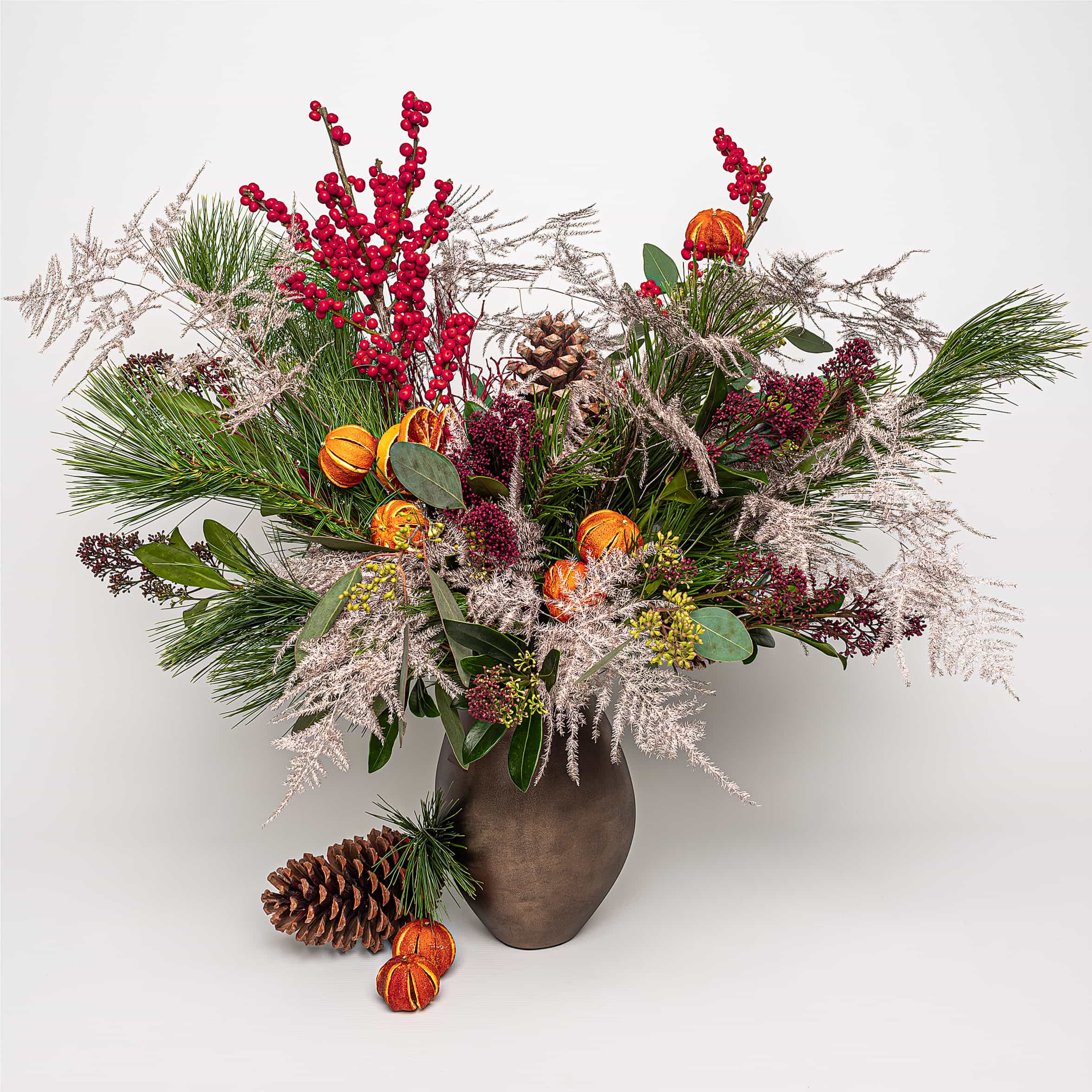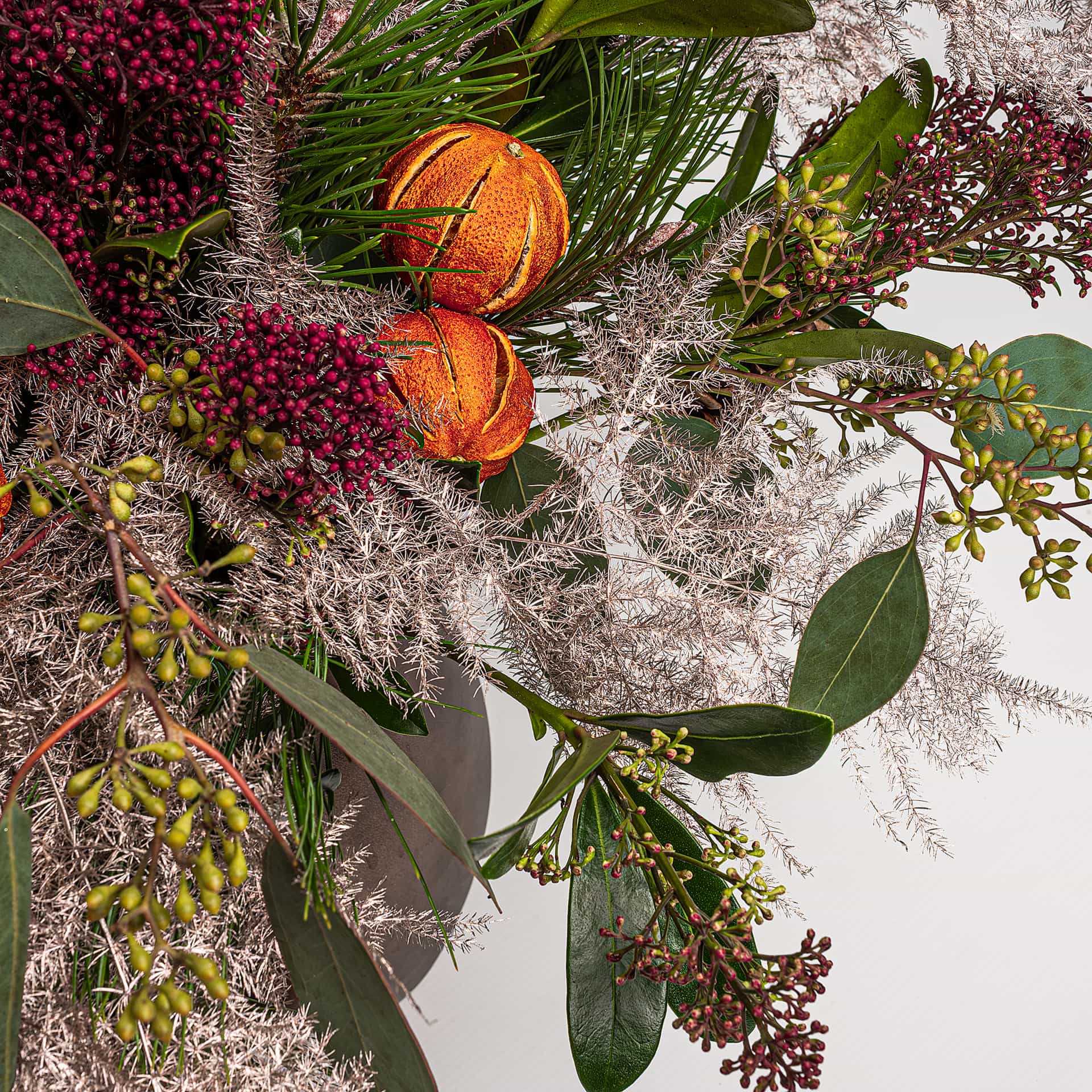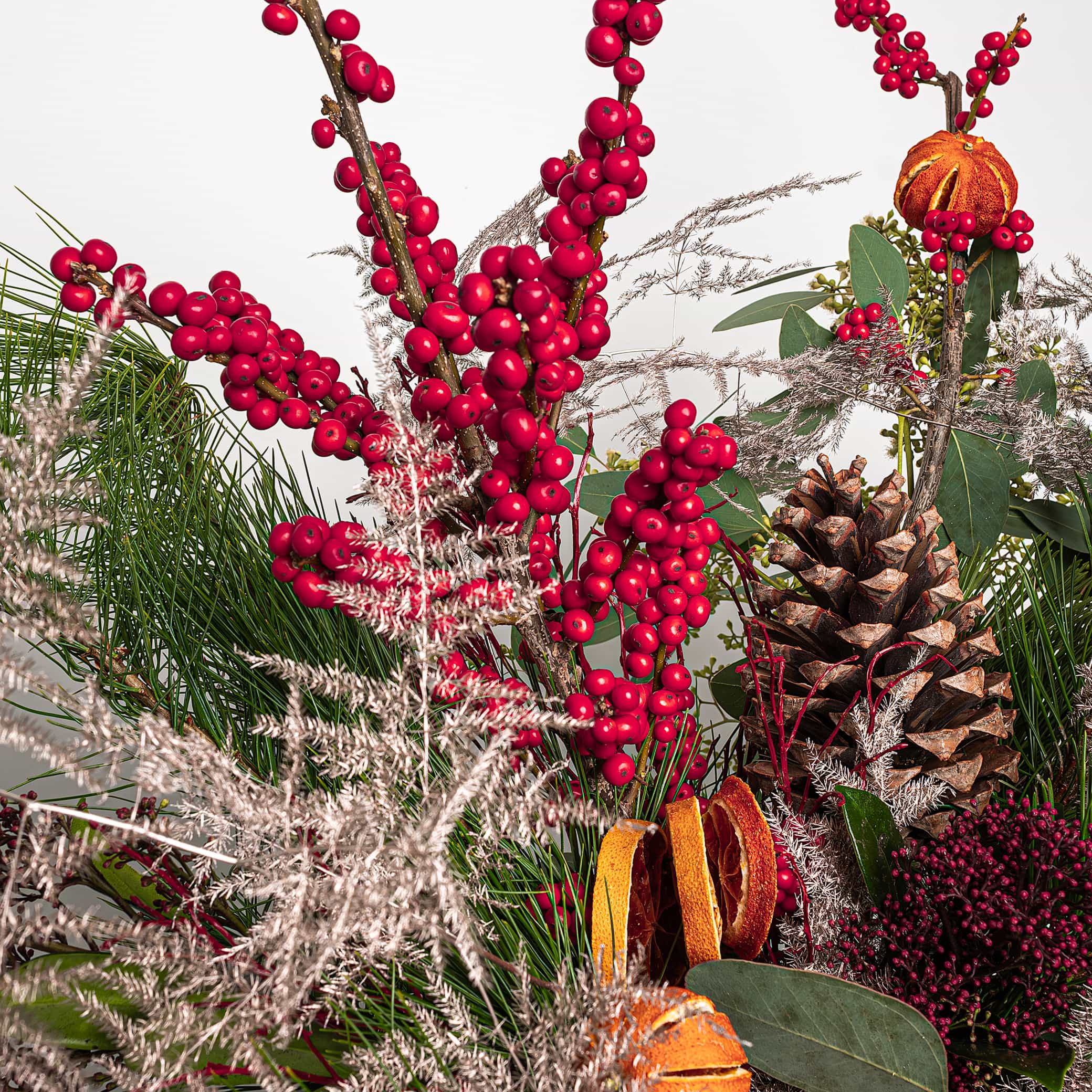 Large Seville Christmas Bouquet
Same day delivery available, select this option at checkout for flowers delivered the same day
PRE-ORDER NOW TO RECEIVE YOUR CHRISTMAS FLOWERS ON THE FIRST WEEK OF DECEMBER
It's the most wonderful time of the year! Elevate your holiday festivities with this Large Christmas Bouquet. This floral arrangement is a botanical wonder inspired by the sun-drenched charm of Seville, Spain. We infused our Large Seville Christmas Bouquet with the essence of this orange-kissed city. Our expert florists created a luxury bouquet for Christmas, celebrating nature's artistry. We have combined an array of enchanting stems to bring the Christmas spirit into your home. Immerse yourself in the warmth and vibrancy of Seville with this meticulously crafted floral arrangement that captures the magic of Christmas.
Flowers for Christmas that Embrace Nature's Colour Palette
This Christmas bouquet uniquely combines bright and vibrant flowers. The evergreen allure of Pine and Scotch Pine sets the stage, conjuring images of snow-dusted forests and cosy holiday traditions. Champagne Asparagus adds a touch of sophistication with its delicate tendrils intertwining with the rich, velvety hues of Red Ilex and Red Skimmia. This bouquet takes on a lush texture with the inclusion of Populus and Gravellia stems, a nod to the diverse landscapes that surround this famous Spanish city.
Christmas Flowers That Are a Tribute to Seville's Radiant Influence
Inspired by the radiant colours of Seville, the Large Seville Christmas Bouquet features a captivating blend of greens, reds, and oranges. The infusion of Whole Orange and Grapefruit Slices adds a burst of citrusy brilliance, mirroring the abundant orange groves that grace the city's streets. Just as Seville comes alive with vibrant Christmas celebrations, our bouquet mirrors the festive spirit with its captivating colours and textures.
Order This Bouquet Now for a Seville-Inspired Christmas
Wow your family and friends with this Large Luxury Christmas Bouquet. Immerse yourself in the magic of Seville this Christmas by adorning your home with this festive floral design. We recommend placing your order by December 21st to ensure it gets to your doorstep on time.
Stems included within this bouquet:
Pine
Scotch pine
White ruscus
Grevillia
Gold asparagus
White helichrysum
Gold lotus seed
Sniowy pine cone
Gold peppercorn
Populus
CLICK AND COLLECT: 8:30am – 5:30pm (Stratford London) | FREE

WEEKDAY DELIVERY: Order by 4pm for orders delivered as soon as next day |FREE

SATURDAY DELIVERY: Order by 12pm for guaranteed Sunday delivery |FREE

SUNDAY DELIVERY: Order by 12pm for next working day delivery | FREE

SPECIFIED DATE DELIVERY: Guaranteed delivery on the day you choose | FREE

SAME DAY LONDON | Order by 1pm for same day delivery across London