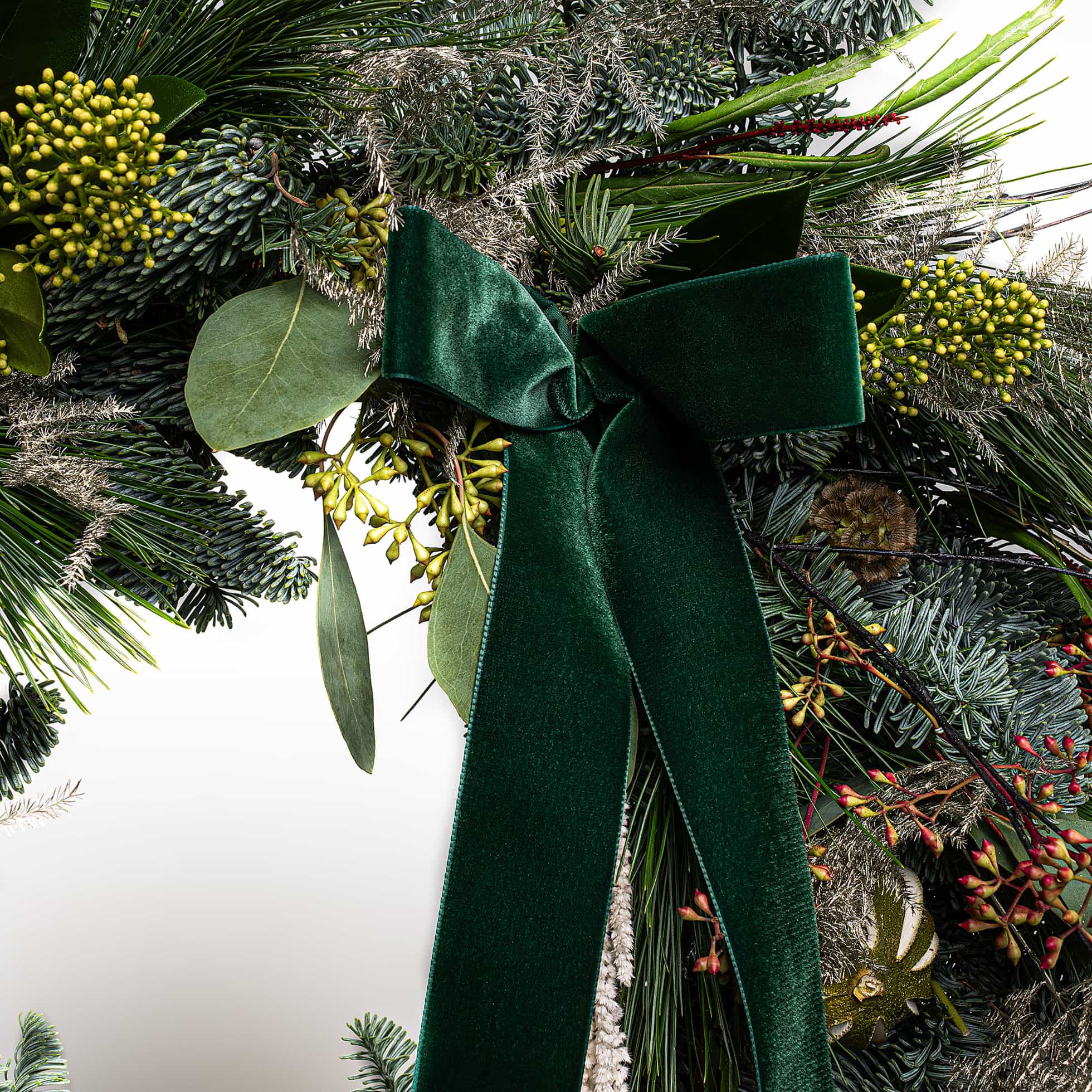 Götenberg Christmas Wreath
Same day delivery available, select this option at checkout for flowers delivered the same day
PRE-ORDER NOW TO RECEIVE YOUR CHRISTMAS WREATH ON THE FIRST WEEK OF DECEMBER
Bring a winter wonderland of pure enchantment to your home with our Götenberg Christmas Wreath, a botanical beauty that mirrors the Scandinavian city's sustainable lifestyle. This enchanting wreath is a harmonious blend of Silver Asparagus, Scotch Pine, and White Amaranthus, weaving together a tapestry of greens, earthy browns from Pine Cones, and pristine whites. The inclusion of Green Skimmia and Populus adds layers of texture, while Scabiosa Seed introduces playful shapes reminiscent of Götenberg's urban and natural coexistence. Each element is carefully curated to reflect the city's sustainability, creating a wreath that encapsulates the essence of a green holiday celebration.
The Sustainable Elegance of Our Christmas Flowers
Our Christmas Wreath is a visual feast that pays homage to the city's commitment to eco-friendly living. The wreath's predominant green tones, accented with earthy browns and whites, showcase the blending of urban sophistication with the tranquillity of nature. Silver Asparagus and Scotch Pine form the wreath's backbone, embodying Götenberg's environmentally conscious spirit. White Amaranthus and Grevillia bring delicate elegance, symbolising the city's dedication to sustainable beauty. Whole Limes add a refreshing zest, echoing Götenberg's vibrant and eco-conscious community.
Order Your Christmas Flowers Today
Transform your Christmas holiday decor into a celebration of sustainability and elegance with this enchanting Christmas Wreath that captures the beauty and spirit of this picturesque northern European region. To ensure these eco-friendly Flowers for Christmas grace your home in time for the festivities, we recommend placing your order by 21st December. Let the spirit of Götenberg infuse your holiday celebrations with the timeless beauty of this wreath—a symbol of green living and the joy of Christmas.
This wreath is 60cm.
Stems included within this bouquet:
Silver asparagus
Scotch pine
White amaranthus
Green skimmia
Popoulus
Scabiosa seed
Pine
Pine cone
Whole lime
Grevillia
CLICK AND COLLECT: 8:30am – 5:30pm (Stratford London) | FREE

WEEKDAY DELIVERY: Order by 4pm for orders delivered as soon as next day |FREE

SATURDAY DELIVERY: Order by 12pm for guaranteed Sunday delivery |FREE

SUNDAY DELIVERY: Order by 12pm for next working day delivery | FREE

SPECIFIED DATE DELIVERY: Guaranteed delivery on the day you choose | FREE

SAME DAY LONDON | Order by 1pm for same day delivery across London