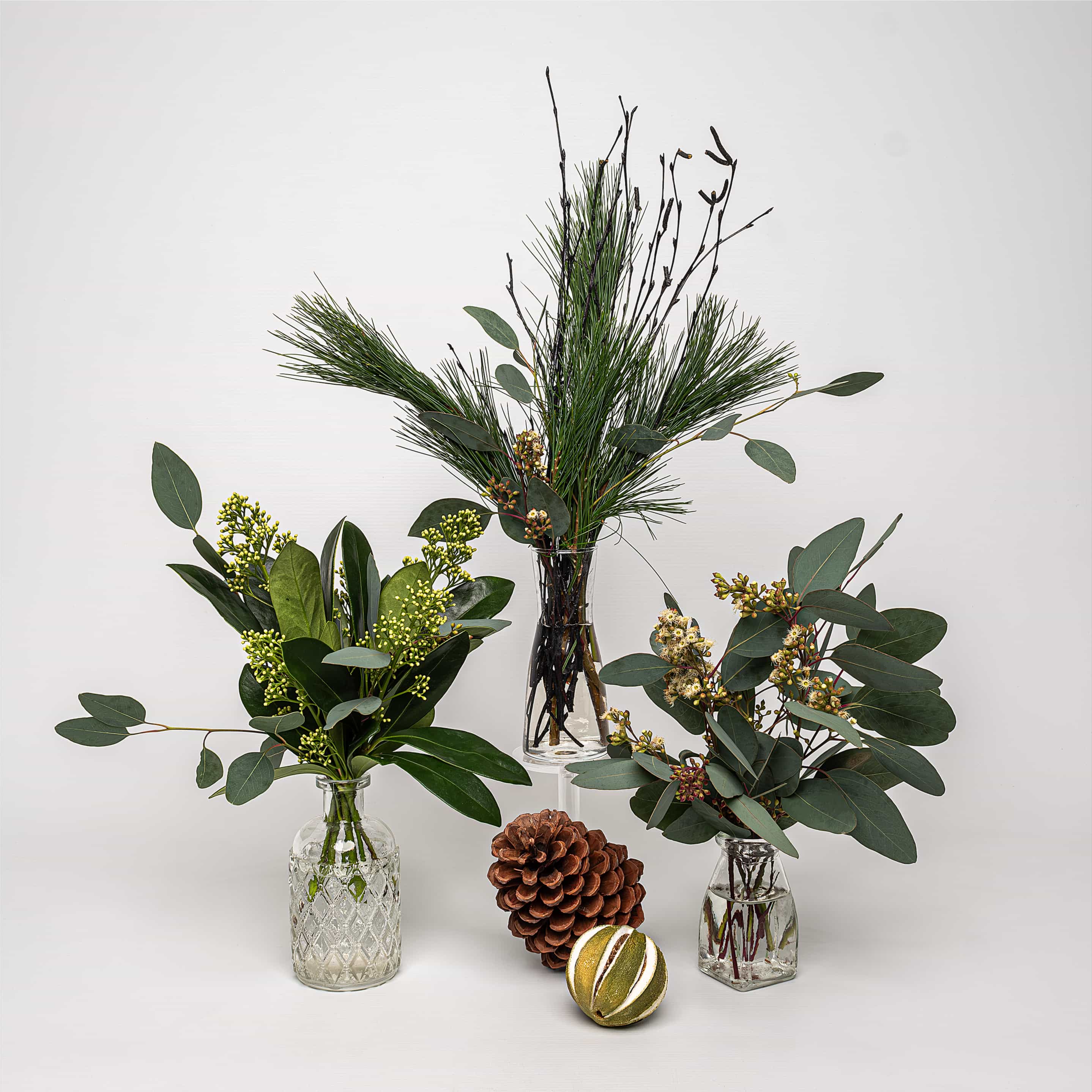 Same day delivery available, select this option at checkout for flowers delivered the same day
PRE-ORDER NOW TO RECEIVE YOUR CHRISTMAS WREATH ON THE FIRST WEEK OF DECEMBER
Embark on a journey into the heart of nature with our Christmas Bud Vases inspired by Götenberg, a homage to the simple, timeless beauty of the Scandinavian countryside during the magical Christmas season. Our florists designed these Christmas Bud Vases based on the unique features of the city and its proximity to a stunning archipelago. These Christmas flowers pay homage to the lush countryside greenery and one of the world's greenest cities.
a collection of three arrangements inspired by a commitment to sustainability, each vase showcases a thoughtful curation of Silver Asparagus, Scotch Pine, and White Amaranthus, creating a botanical symphony that echoes the city's dedication to embracing the beauty of the natural world. With pops of earthy brown from Pine Cones and the delicate touch of Grevillia, these arrangements bring the essence of Götenberg's verdant landscapes into your home for a truly enchanting holiday season.
Christmas Flowers with a Green Influence
The Christmas Bud Vases celebrate nature's bounty, featuring a palette dominated by various shades of green, interspersed with earthy browns and pristine whites. Silver Asparagus and Scotch Pine set the foundation, reflecting a commitment to eco-friendly living. White Amaranthus and Green Skimmia introduce soft textures and a touch of purity, mirroring a dedication to environmental harmony. The inclusion of Populus and Scabiosa Seed creates a delightful play of shapes, while Pine Cones add rustic charm and Whole Limes bring a zesty twist to the arrangements. Grevillia completes the ensemble, infusing a sense of elegance inspired by Götenberg's commitment to blending urban living with nature.
Order Today for a Green Holiday Experience
Elevate your holiday decor with the Götenberg Christmas Bud Vases, a tribute to the green haven that is Götenberg. To ensure these exquisite arrangements grace your home in time for the festivities, we recommend placing your order by 21st December. Let these flowers for Christmas be a vibrant expression of your love for nature and a symbol of the joy of Christmas.
Stems included within this bouquet:
Silver asparagus
Scotch pine
White amaranthus
Green skimmia
Popoulus
Scabiosa seed
Pine
Pine cone
Whole lime
Grevillia
CLICK AND COLLECT: 8:30am – 5:30pm (Stratford London) | FREE

WEEKDAY DELIVERY: Order by 4pm for orders delivered as soon as next day |FREE

SATURDAY DELIVERY: Order by 12pm for guaranteed Sunday delivery |FREE

SUNDAY DELIVERY: Order by 12pm for next working day delivery | FREE

SPECIFIED DATE DELIVERY: Guaranteed delivery on the day you choose | FREE

SAME DAY LONDON | Order by 1pm for same day delivery across London