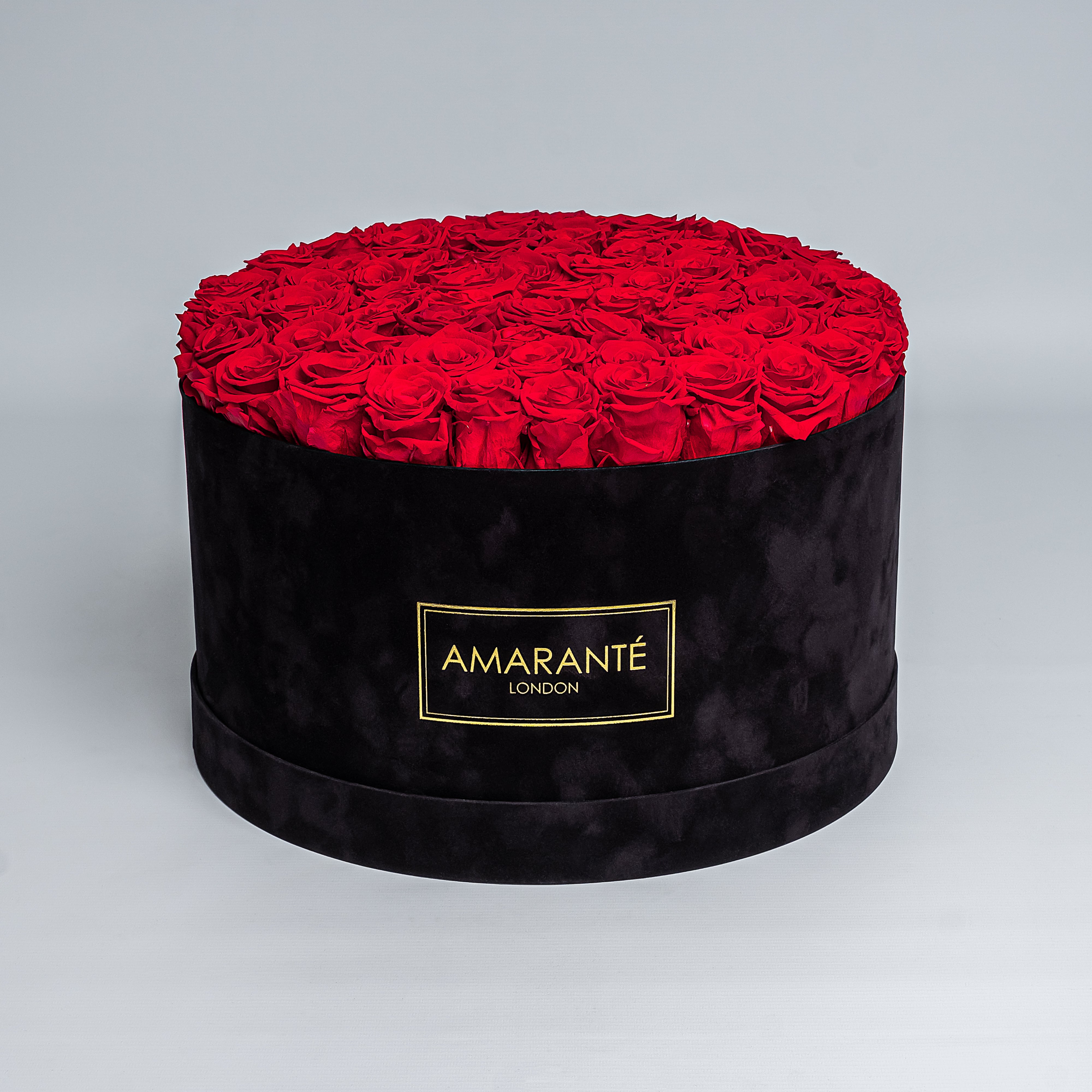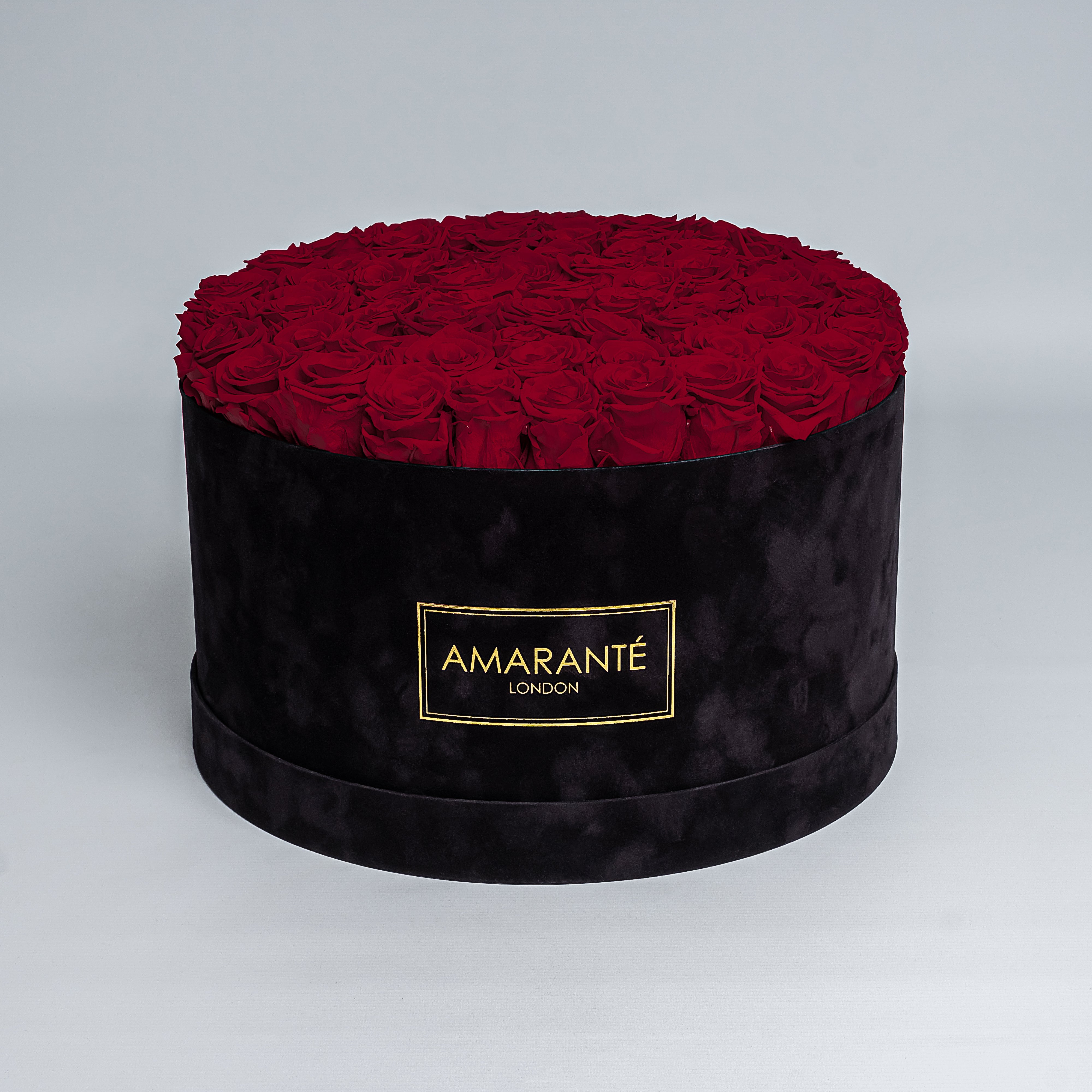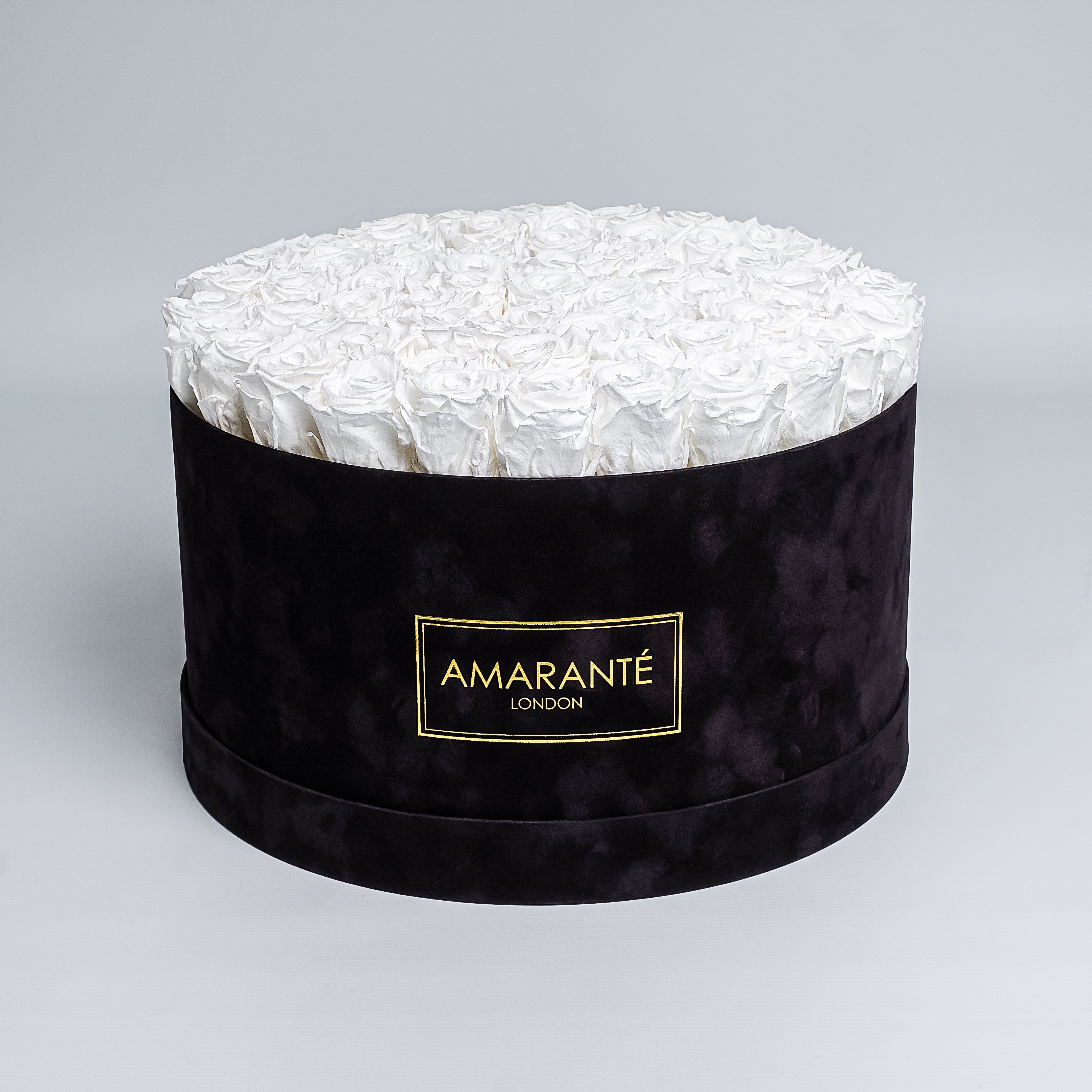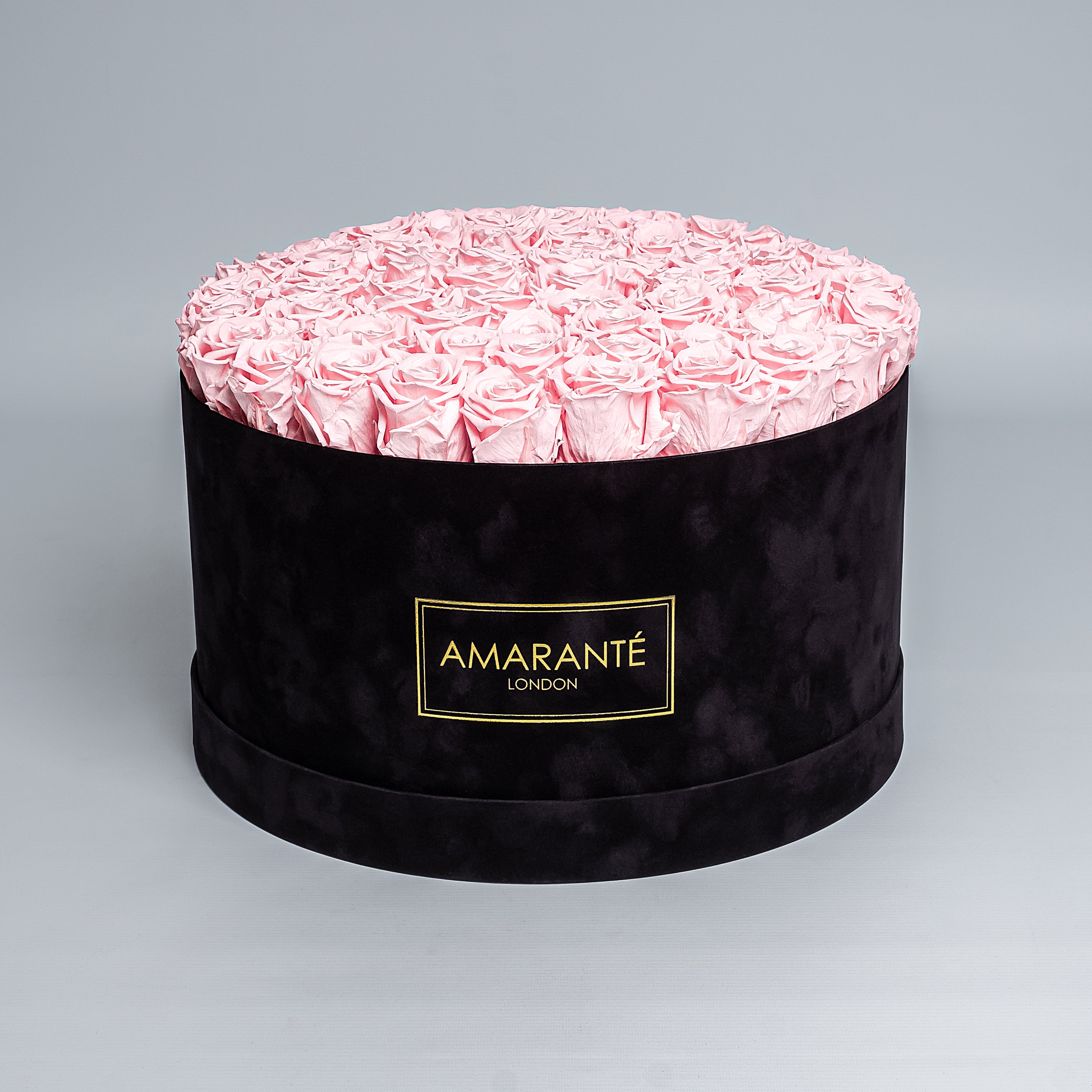 60-70 Roses in Black Deluxe Round Suede Rose Box
Same day delivery available, select this option at checkout for flowers delivered the same day
This gorgeous rose box 16"x 9" incorporates approximately 60 to 70 infinity roses, usually measuring 2"-3" in diameter. The number of roses may vary due to the differing sizes of rose heads.
This classic, elegant, brushed suede rose box encompasses infinity roses that are available in fourteen striking colours. From traditional, delectable reds and pinks to lighter, more playful yellow and blues, there's no shortage of options when it comes to crafting the perfect rose box for you.
A Gift That Will Last Beyond the Occasion
Is there an occasion coming up that you know this rose box will be the perfect gift for? One of the most beloved things about these infinity roses is how long they last without harming the environment. While fresh roses will wither and die after just a few days, these infinity roses can be adored for many years to come.
Due to their sustainable nature, these infinity roses also require minimal maintenance. Unlike regular roses that need constant water and light, these infinity roses allow for the perfect gift as they can simply be placed within a home and be left to admire.
Custom Made for You
There is great pride taken the process of creating every rose box, from the farming of every rose to making the box and delivering it right to your door. Every rose box is handmade to order, ensuring no excess roses are ever wasted and your loved one gets the box they deserve.
Spread the Cost with Klarna and Clearpay
In times like these, we know the importance of being able to spread the cost. We're proud to partner with Klarna and Clearpay, two payment services that allow you to spread the cost of your roses. We ensure you're able to treat the one you love with the reassurance you've got a clear payment plan you can trust.
Free UK Weekday Delivery and Collection Available
We offer free UK Delivery every weekday without any additional fees. All there is to do is select the weekday date you would like your roses delivered using the calendar feature on our website. It's important that all orders are placed no later than 3pm the previous day, to ensure we are able to complete your order to the highest standard and get it shipped on time to arrive at your door on your chosen day. You can find out more delivery options, including international shipping, available here.
Please note, the colour of the roses can differ due to the effect of the seasons  and the number of roses stated is for guidance only. 
We also source all our stems from our Fairtrade B-Corp Farm in Holland to ensure responsible and ethical farming.

Being a sustainable business, we only source stems that are currently in season meaning that from time to time, certain stems are out of season. If this is the case, then our expert florists will substitute them for similar and equally elegant stems. Our florists do the absolute most to ensure that they make each of our dried flowers bouquets extraordinary.
CLICK AND COLLECT: 8:30am – 5:30pm (Stratford London) | FREE

WEEKDAY DELIVERY: Order by 4pm for orders delivered as soon as next day | FREE

SATURDAY DELIVERY: Order by 12pm for guaranteed Sunday delivery | £4.99

SUNDAY DELIVERY: Order by 12pm for next working day delivery | £4.99

SPECIFIED DATE DELIVERY: Guaranteed delivery on the day you choose | FREE

Every effort will be made to ensure your your order is dispatched on time for your chosen delivery date. However, it is not possible to guarantee delivery on a certain date due to our reliance on our carriers (DPD, Royal Mail, DHL).