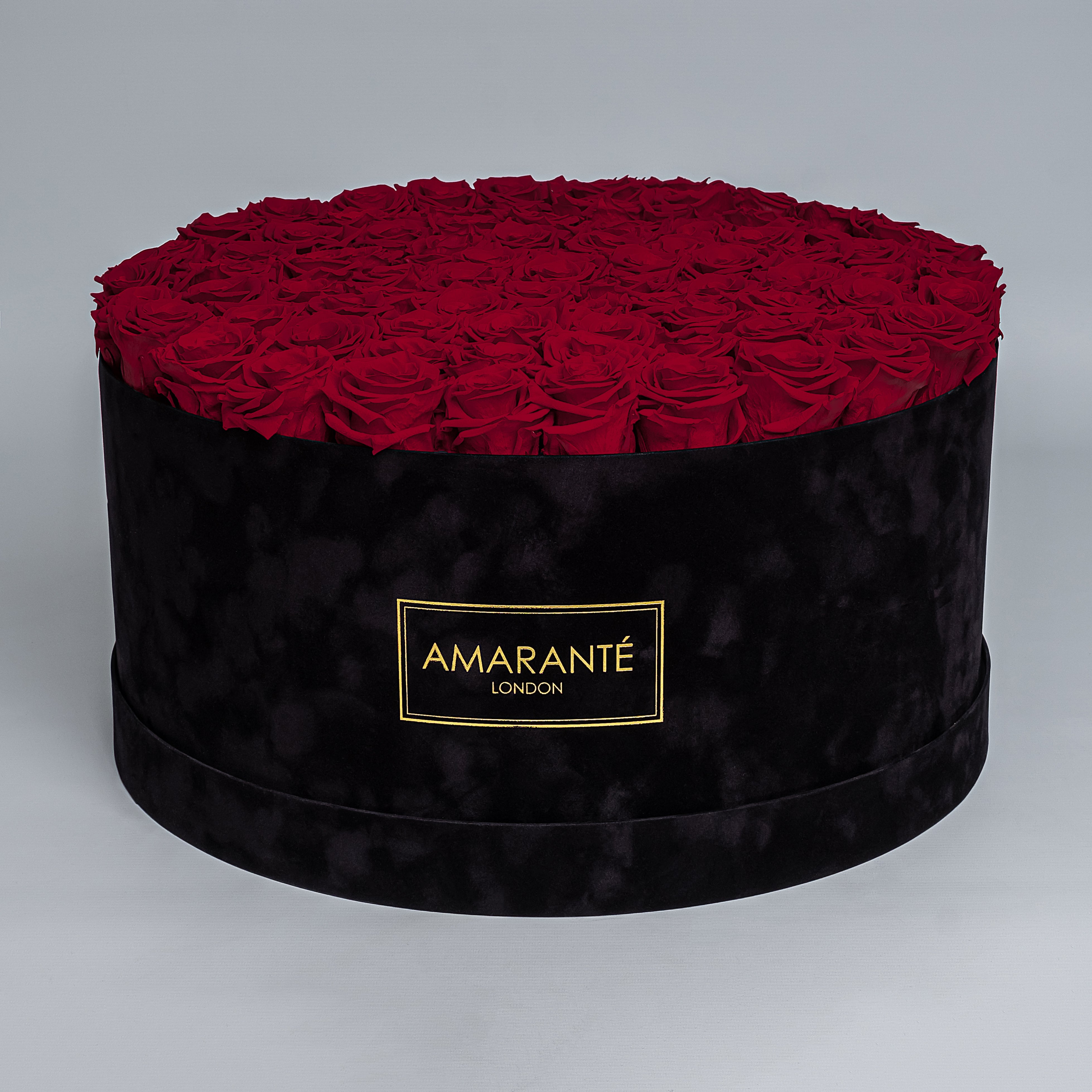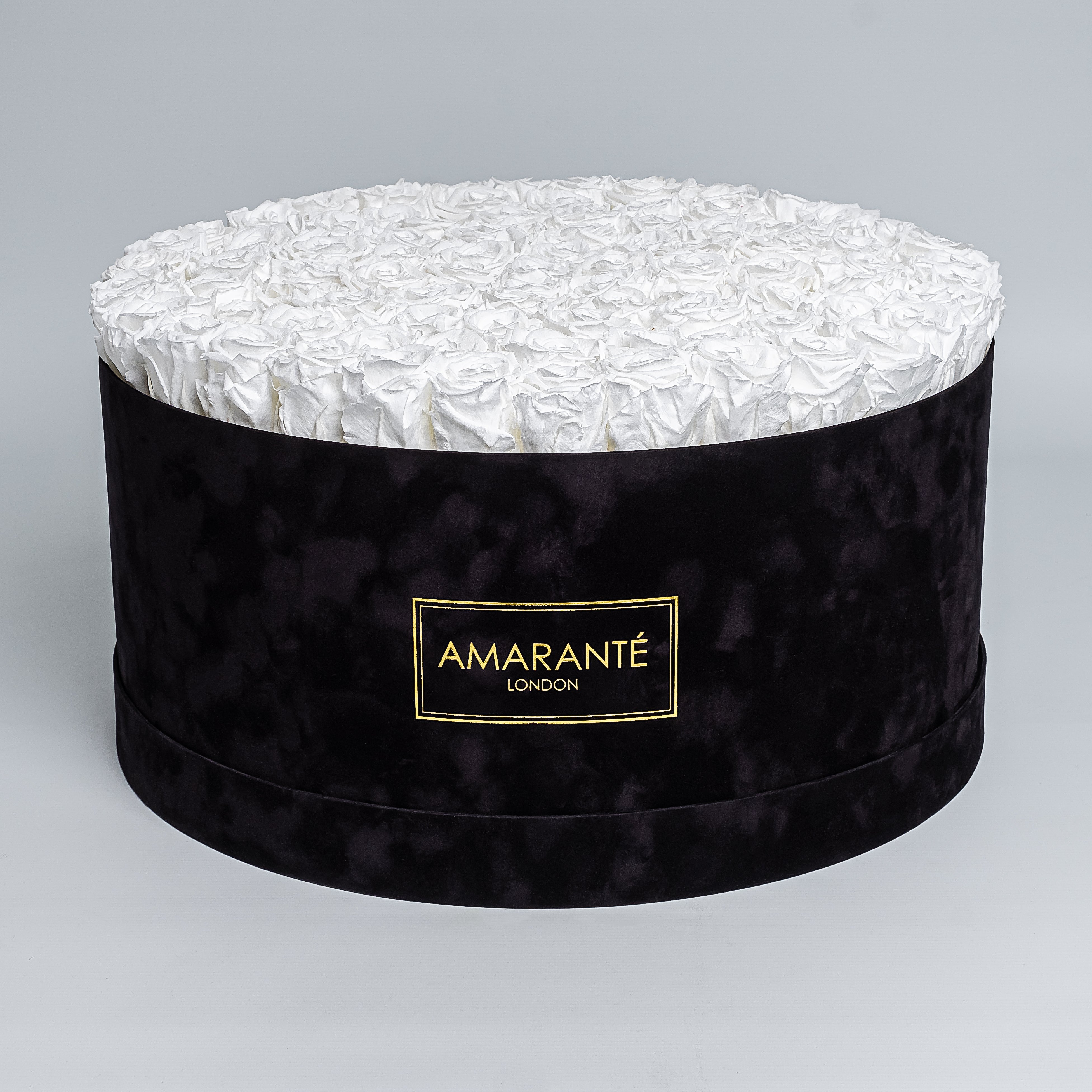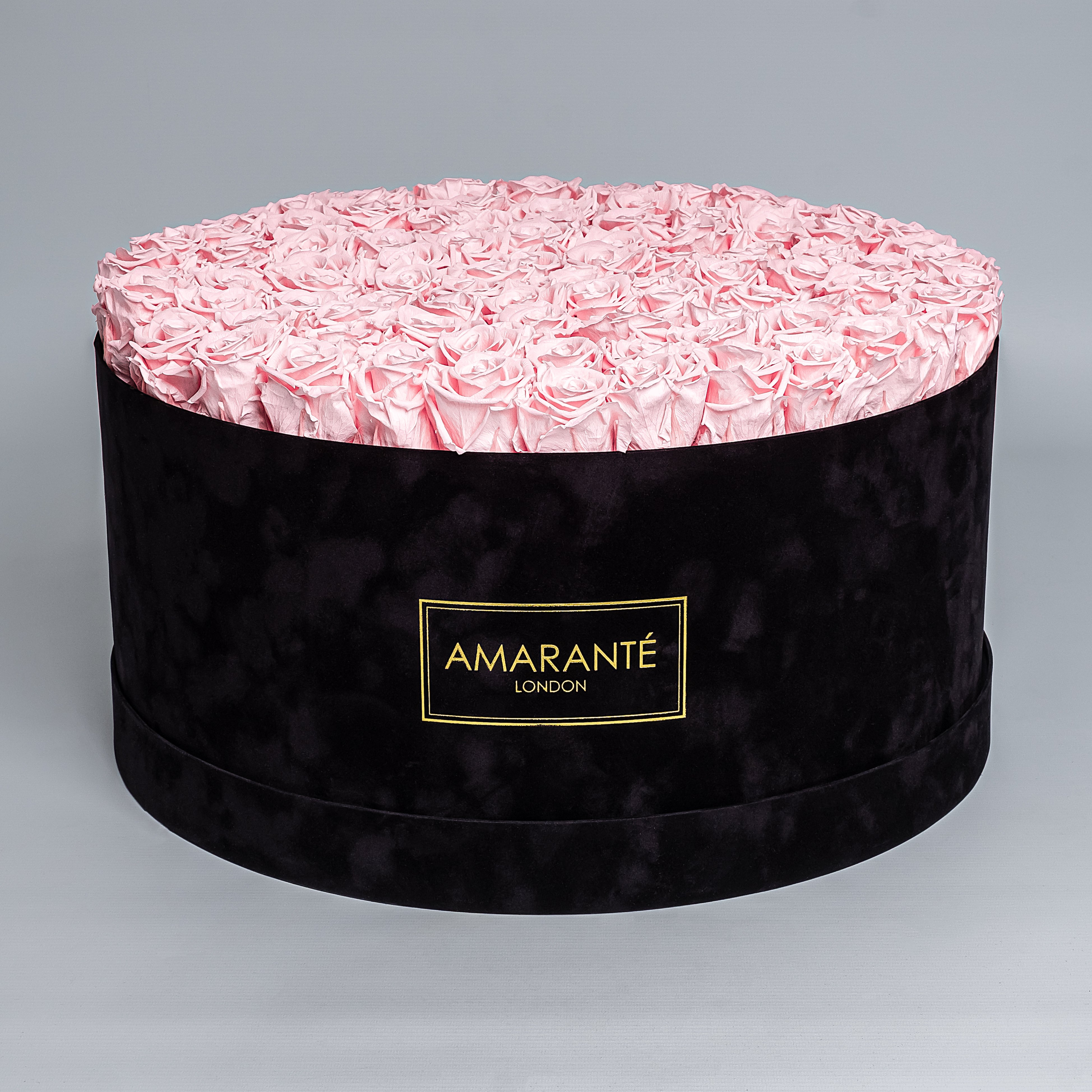 85-100 Roses in Super Deluxe Round Black Suede Rose Box
Same day delivery available, select this option at checkout for flowers delivered the same day
This 20" x 9.5" rose box contains approximately 85-100 roses, measuring 2"-3" in diameter. The size of each rose may vary due to only being farmed in season.
This gorgeous, black suede luxury rose box is a true declaration of love, the perfect gift for any season of romance, or simply to make a strong statement of gratitude, affection, or friendship that nobody will forget. This unique, handmade rose box is composed with luxurious, long-lasting infinity roses, available in 14 colours, including the classic shades of light red, traditional red and light pink, to name a few of the most popular for this Super Deluxe Rose Box.
100 Roses Make a Strong Statement
When you truly want to make a statement of love, gifting 100 roses is certainly the right place to start. Symbolising everlasting love through both the number of roses and their long-lasting nature, this is a gift sure to make the receiver's heart beat fast.
The Biggest of Rose Boxes in Black, featuring 100 Roses
Black may be traditional, but it is as show-stopping as ever. Pair this classic rose box with the charming infinity roses of your choice, symbolising a deep, rich, intensive sentiment. Black is also a neutral colour, meaning it will effortlessly fit within any setting you choose to proudly display it in.
A Unique Unboxing Experience
We carefully place by hand 100 of our finest and largest infinity roses into this deluxe black hat box before gift-wrapping and preparation for delivery. Whether you're treating yourself or looking to surprise your partner, a close relative or a friend, this super deluxe box of roses will arrive ready to be displayed and enjoyed. Our forever roses maintain their flawless beauty, perfect texture, and intoxicating aroma for as long as three years, not days.
Spread the Cost with Klarna and Clearpay
We know the importance of being able to spread the cost. We're proud to partner with Klarna and Clearpay, two payment services that allow you to spread the cost of your roses, ensuring you're able to treat the one you love with the reassurance you've got a clear payment plan you can trust.
Have Roses Delivered on the Date of Your Choice
Our specific date delivery allows you to order your roses up to six months in advance, with a calendar feature making it easy to select the date you wish your flowers to be delivered.
We also provide international delivery available and delivery to 250 countries around the world, with next day delivery available for many destinations worldwide. We suggest placing your order at least five working days in advance for international delivery to ensure your flowers arrive on time. Please find out more about shipping directly to your chosen country on our international delivery page.
Please note that the colour of our forever roses can differ due to the effect of the seasons and the number of roses stated is for guidance only.
We also source all our stems from our Fairtrade B-Corp Farm in Holland to ensure responsible and ethical farming.

Being a sustainable business, we only source stems that are currently in season meaning that from time to time, certain stems are out of season. If this is the case, then our expert florists will substitute them for similar and equally elegant stems. Our florists do the absolute most to ensure that they make each of our dried flowers bouquets extraordinary.
CLICK AND COLLECT: 8:30am – 5:30pm (Stratford London) | FREE

WEEKDAY DELIVERY: Order by 4pm for orders delivered as soon as next day | FREE

SATURDAY DELIVERY: Order by 12pm for guaranteed Sunday delivery | £4.99

SUNDAY DELIVERY: Order by 12pm for next working day delivery | £4.99

SPECIFIED DATE DELIVERY: Guaranteed delivery on the day you choose | FREE

Every effort will be made to ensure your your order is dispatched on time for your chosen delivery date. However, it is not possible to guarantee delivery on a certain date due to our reliance on our carriers (DPD, Royal Mail, DHL).