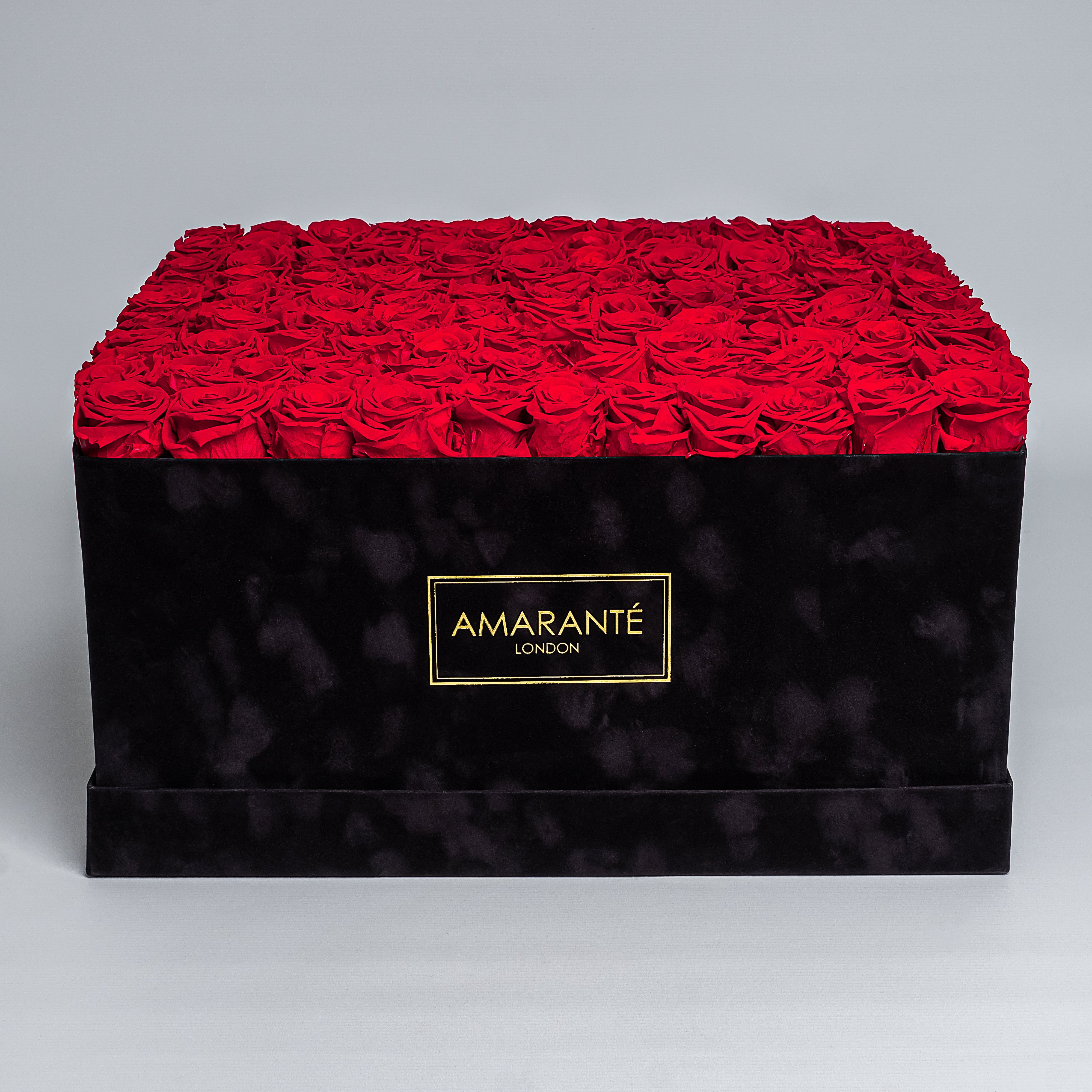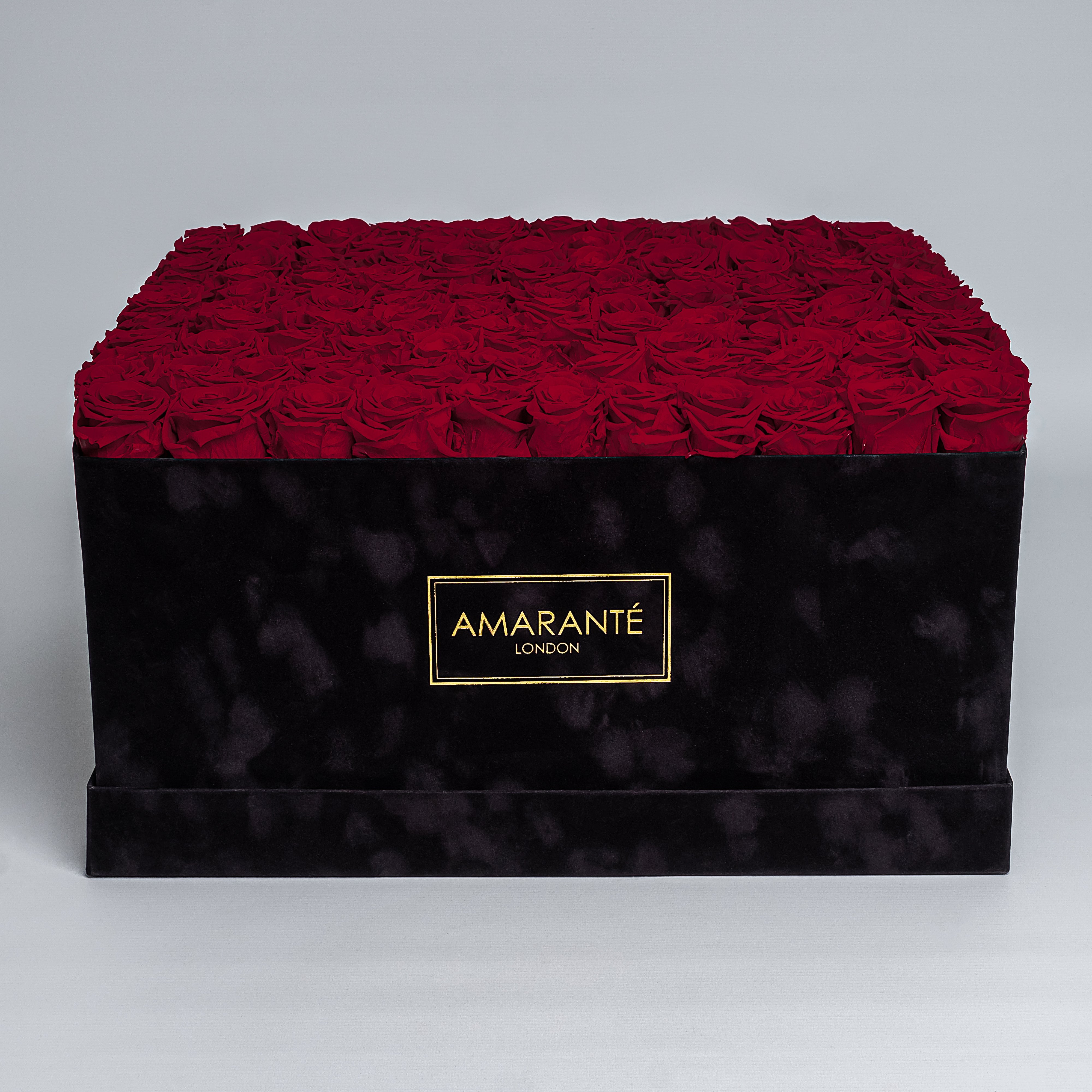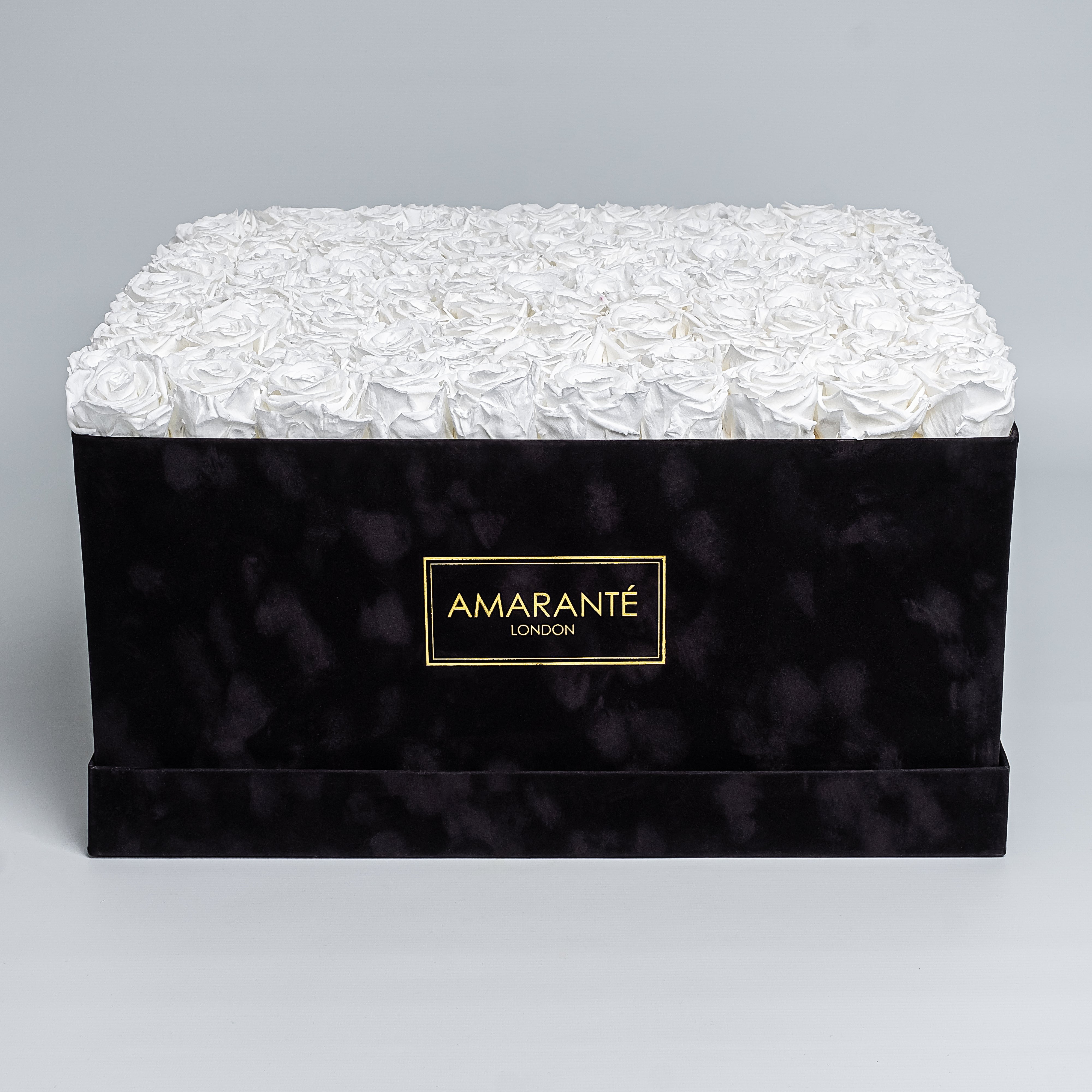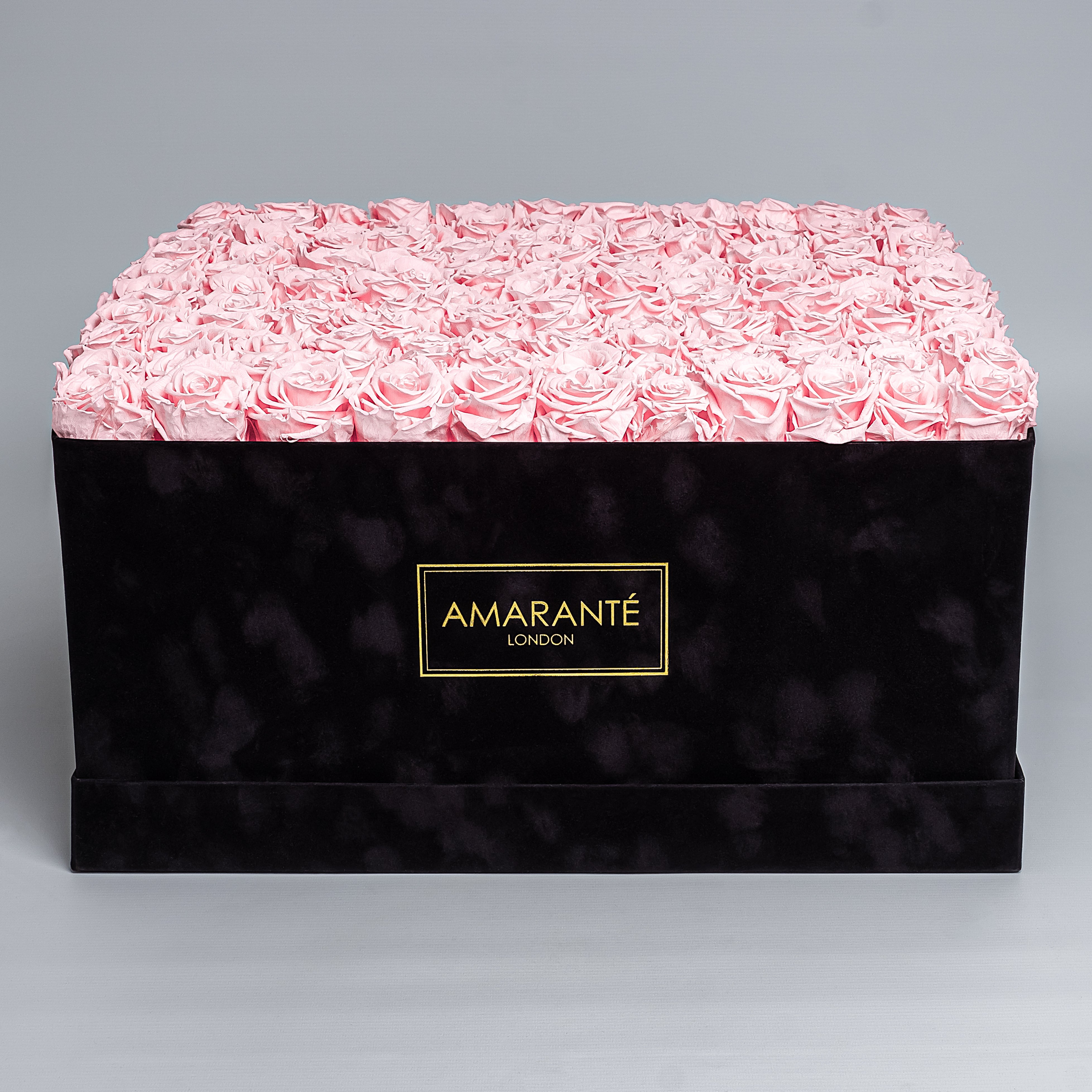 130-150 Roses in Super Deluxe Square Black Suede Rose Box
Same day delivery available, select this option at checkout for flowers delivered the same day
Approximately 130-150 elegant infinity roses are presented in a beautiful 20"x 20" black rose box with a gorgeous brushed suede finish. Each rose typically measures 2 "-3" in diameter, although the size of the roses may vary due to only being farmed in season.
This gorgeous, square rose box is a true declaration of love, perfect for this season of romance. This exclusive and unique rose box contains as many as 150 infinity roses, available in 14 colours, perfect for expressing a large array of feelings depending on what you want to say.
150 Roses for Long Lasting Love and Special Occasions
150 Roses is always the go-to choice when searching for the perfect floral arrangement to show your loved one how much they mean to you on a special occasion. Imagine their reaction to this super deluxe box of roses featuring as many as 150 roses.
This Luxury Box of Roses Can Last As Long As Three Years
What makes this even better is just how long these infinity roses will last. With proper care, they will remain just as beautiful years later as the day you receive them. With no harm to the environment, these roses are a special gift that will last for at least one year and as many as three years if kept away from air conditioning outlets and direct sunlight.
Klarna and Clearpay Payment Plans Available
We have partnered with Klarna and Clearpay, two payment services that allow you to spread the cost of your roses. Celebrate a special occasion with this exclusive gift, knowing you've got a payment plan you can trust.
Free UK Delivery on Weekdays, Same Day Delivery in London
We offer Free Next Day Delivery in the UK and same day delivery in London every weekday without any additional fees. All there is to do is select the weekday date you would like your roses delivered using the calendar feature on our website. It's important that you place your order no later than 3 pm the previous day to ensure completion of your order to the highest standard and get it shipped on time to arrive at your door on your chosen day. We also provide international delivery to 250 countries with next day option to most.
Please note the colour of the roses can differ due to the effect of the seasons and the number of roses stated is for guidance only. 
We also source all our stems from our Fairtrade B-Corp Farm in Holland to ensure responsible and ethical farming.

Being a sustainable business, we only source stems that are currently in season meaning that from time to time, certain stems are out of season. If this is the case, then our expert florists will substitute them for similar and equally elegant stems. Our florists do the absolute most to ensure that they make each of our dried flowers bouquets extraordinary.
CLICK AND COLLECT: 8:30am – 5:30pm (Stratford London) | FREE

WEEKDAY DELIVERY: Order by 4pm for orders delivered as soon as next day | FREE

SATURDAY DELIVERY: Order by 12pm for guaranteed Sunday delivery | £4.99

SUNDAY DELIVERY: Order by 12pm for next working day delivery | £4.99

SPECIFIED DATE DELIVERY: Guaranteed delivery on the day you choose | FREE

Every effort will be made to ensure your your order is dispatched on time for your chosen delivery date. However, it is not possible to guarantee delivery on a certain date due to our reliance on our carriers (DPD, Royal Mail, DHL).