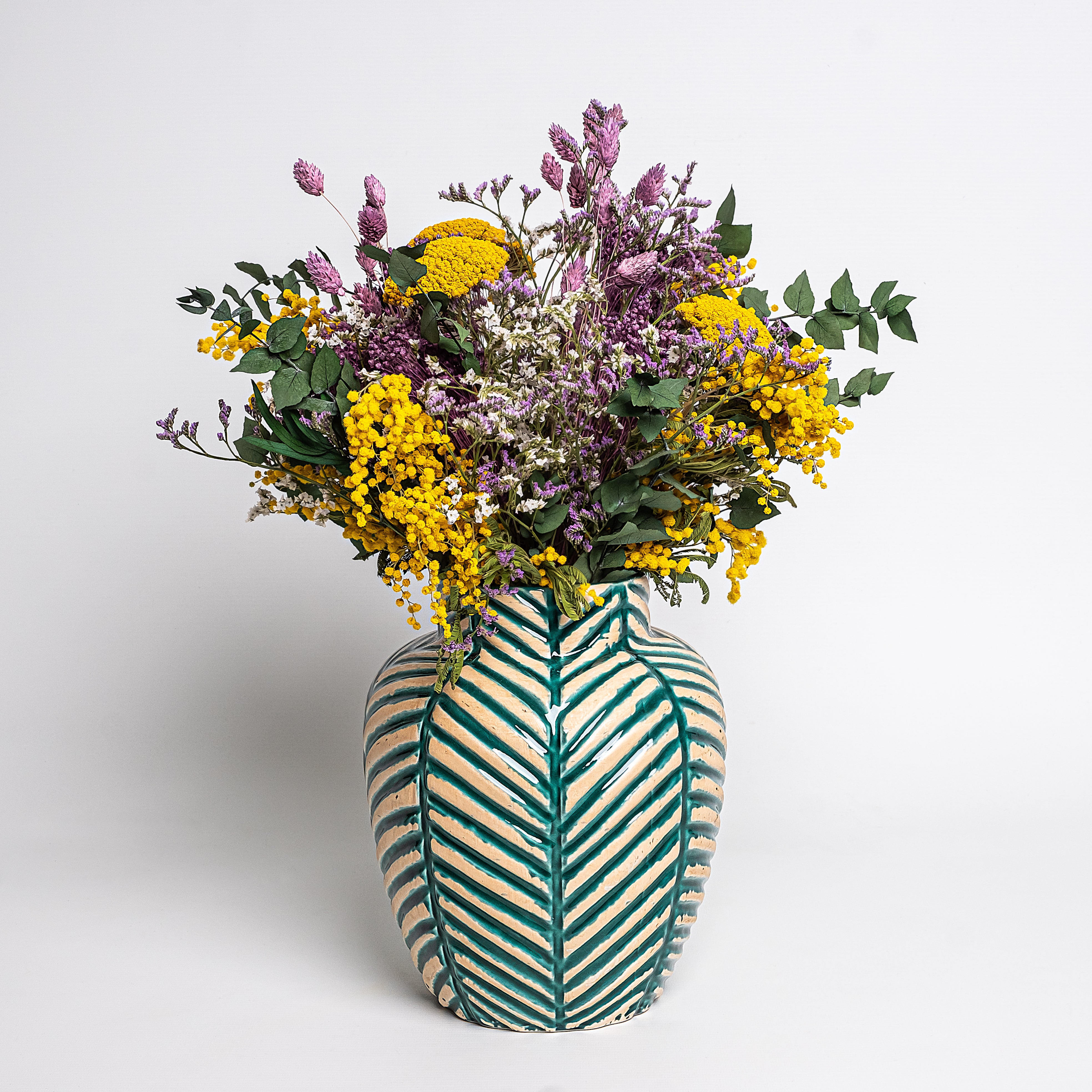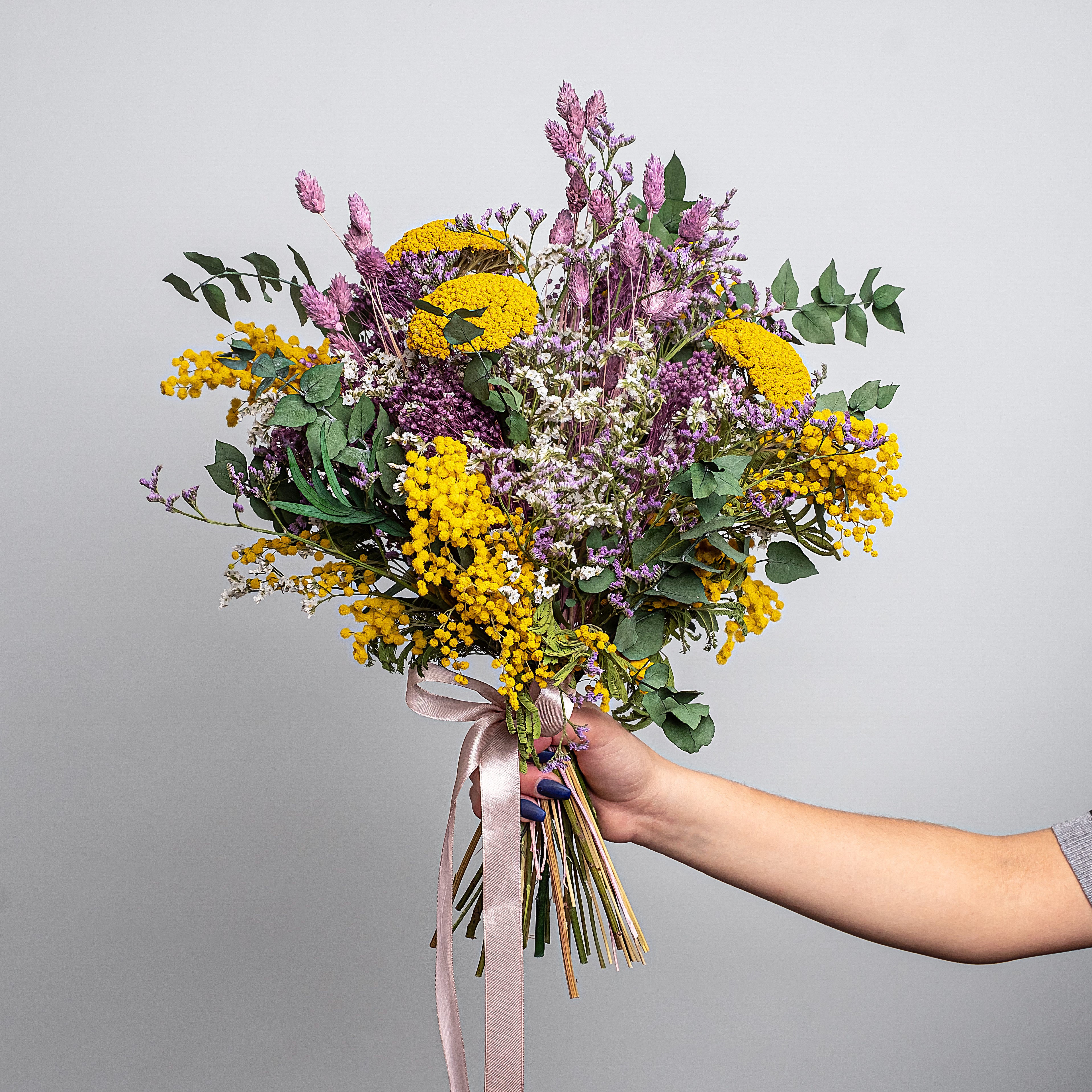 Field Day Medium Dried Flower Bouquet
Same day delivery available, select this option at checkout for flowers delivered the same day
Field Day is a medium-sized dried flower bouquet – a soft but enduring eco-friendly bouquet of dried flowers that will bring light and charm to any environment of the house and convey the message that Spring is truly in the air.
A Dried Flower Arrangement for Home or at Work
Field Day is the perfect living room or kitchen centrepiece. It is often gifted as a bouquet to decorate the workspace because of the vibrant colour tones in this cheerful arrangement of dried flowers.
Dried Flowers Featuring Soft Colours and Darker Shades of Purple
This bouquet of dried flowers encompasses a range of stems we chose especially to amplify the soft, pastel appearance of this eco-friendly floral arrangement. The gentle tones of purple, through the stems of Lilac Broom and Mimosa, have always been associated with soft colours and the playfulness of Spring. We also included harder purple in different shades that confer a strong character.
The inclusion of White and Purple Limonium gives Field Day a vibrant edge, allowing it to stand out proudly against familial arrangements such as Lilac Skies. We also encompassed Eucalyptus into this bouquet, a popular stem that creates a unique, vibrant edge to this otherwise gentle arrangement.
A Dried Flower Bouquet to Express Everlasting Joy
Field Day is a bouquet featuring purple spring flowers symbolising royal luxury, strength, and determination. With this bouquet, you'll deliver your message with a touch of elegance, charm and positiveness typical of Spring.
Eco-Friendly Flowers that Last Years Not Days
Like all our dried flower bouquets, the Field Day Bouquet is eco-friendly and naturally preserved. One of our fundamental principles is respect for those who provide us with such outstanding luxury and long-lasting allure. We have partnered with B-Corporation farms that meet and exceed Fairtrade standards for some of the best Responsibly Sourced & Cruelty-Free forever flowers on the market today.
A Bouquet to celebrate many occasions
The Field Day Dried Flower Arrangement is one of our most popular Mother's Day bouquets that speaks the words you can't. Send your mum flowers during the year to let he know how much you love her.
This bouquet is also a wonderful way to celebrate other important events and occasions; for example, birthdays, anniversaries, or a new home to name a few of the most frequent occasions in the life of a loved one, family member or friend.
Please note: This bouquet of flowers does not include the vase.
Free UK Delivery on Weekdays, we'll deliver your flowers to 250 countries
We offer free UK Delivery during the week – an additional fee will apply for weekend delivery. Amaranté will send your flowers globally with next-day delivery to most destinations. Place your order at least five working days before international delivery to ensure your flowers arrive on time. See our international delivery page for a complete listing of all countries.
Mimosa
Lilac Broom
White Limonium
Purple Limonium
Eucalyptus
Lilac Phalaris
We recommend an occasional light dusting

Keep away from direct sunlight

Never water them
We also source all our stems from our Fairtrade B-Corp Farm in Holland to ensure responsible and ethical farming.

Being a sustainable business, we only source stems that are currently in season meaning that from time to time, certain stems are out of season. If this is the case, then our expert florists will substitute them for similar and equally elegant stems. Our florists do the absolute most to ensure that they make each of our dried flowers bouquets extraordinary.
CLICK AND COLLECT: 8:30am – 5:30pm (Stratford London) | FREE

WEEKDAY DELIVERY: Order by 3pm for orders delivered as soon as next day | FREE

SATURDAY DELIVERY: Order by 12pm for guaranteed Sunday delivery | £4.99

SUNDAY DELIVERY: Order by 12pm for next working day delivery | £4.99

SPECIFIED DATE DELIVERY: Guaranteed delivery on the day you choose | FREE

SAME DAY LONDON | Order by 1pm for same day delivery across London